Clamp aligns material for welding applications.
Press Release Summary: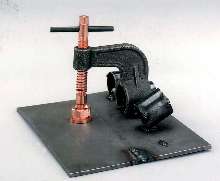 The 1/2-Clamp(TM) aligns material ranging from large pipes to flat stock with memories. User tack welds front side of 1½ x 2 in. pipe to lower side of 2 surfaces to be aligned. Clamp slides onto pipe and screw is turned until material comes into alignment. Pipe can be broken off easily, and weld spot can be ground off after weld is completed. For big jobs, welder can remove, rotate, and reuse same piece of pipe at least 20 times, moving it down material as needed.
---
Original Press Release:

1/2-Clamp(TM) Does the Job in Half the Time!


The new 1/2-Clamp(TM), from Strong Hand is the fast, clean, easy way to align material - from large pipes (cans) to flat stock with memories. Designed by a professional welder, the Half Clamp simplifies a task that has traditionally been troublesome, messy, and time-consuming.

Problem: Before two pieces of mis-aligned plates can be joined, the material must be aligned to produce an even joint. In the past, welders would use a combination of "homemade" fixtures such as ply bars, or cut-off C-Clamps or fit sticks, to align material with rather uneven results.

Solution: To align material with the 1/2-Clamp(TM) the user tack welds the front side of a standard 1-1/2" x 2"L pipe (coupon) to the lower side of the two surfaces to be aligned. The 1/2-Clamp slides onto the pipe. Then the screw is turned until the material comes into alignment. The pipe (coupon) can be broken off easily, and the weld spot ground off after the weld is completed.

For big jobs, welders can remove, rotate, and reuse the same piece of pipe at least 20 times, moving it down the material as needed. The 1/2-Clamp(TM) is a very effective, and solution to the material alignment problem because it works with common 1-1/2" pipe, found in ANY workplace. The 1/2 Clamp replaces the "Dog & Wedge" and "Cut-off C-Clamp" methods commonly used by welders to align material.

For more information on the 1/2-Clamp(TM) call Sales Manager Ray Strickland at: 800-989-5244, ext. 215. E-Mail Ray at: ray@valtrainc.com Visit us on the web at: www.valtrainc.com

More from Electrical Equipment & Systems