Clairy Announces Its Participation in CES 2019 with the New Air Purification System Product, Natede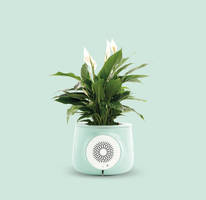 MILAN and PORDENONE, Italy and LAS VEGAS, Dec. 21, 2018 /PRNewswire/ -- Clairy, the Italian start-up has invented an innovative solution to monitor and clean indoor air.
In the late '30s an Italian immigrant went to South Africa with an innovative ventilation system to help workers breathe better in the mines; 100 years later his nephew developed another solution aiming to help people breathe better indoors. Clairy announced its participation to CES 2019 with the new product Natede and since last April it has become the most crowdfunded anti-pollution product ever, with $1M raised.
Founder of Clairy, Paolo Ganis sees his work as a sort of legacy to carry on, "My grandfather has dedicated his life to making people's lives better, breathing better, and I have always felt a duty to carry out this mission. The sad thing is that at his time the miners needed better air. Today everybody needs it.
"For us is a great return to the origins, as we went to CES in 2016 to launch our first product, Clairy," said Ganis. "In these 3 years, everything has changed for us, our team has grown for just the three of us to a group of almost 30 people. We won several awards such as German Design, several pitches such as Bosch and P&G and the funding of €2M from European Commission."
Natede is the second product launched by Clairy, the Italian startup founded by Vincenzo Vitiello, Alessio D'Andrea and Paolo Ganis. It's a smart natural air purification system that works thanks to the power of plants. In fact, through the phytoremediation process, plants can purify indoor air from toxic pollutant. Natede is able to eliminate 93% of VOCs and 99% of viruses, bacteria and significantly reduce odors.
Natede leverages the most groundbreaking technologies: it has the most accurate sensors that measure air quality, temperature, humidity, fine particulate and is compatible with Smart Home products.
Clairy with Natede will be placed from 8th to 11th January in booth #44867, in Smart Home Area, Sands Pavillion, Level 2 A-D.
For more info 
www.clairy.com 
Media Kit: http://bit.ly/MediaKitNatede
CONTACT: andrea.passador@clairy.com, +39-3913622711, press@clairy.com
More from Architectural & Civil Engineering Products