City of Fort Myers Celebrates Meeting Coverage Success with Broadcast Pix Integrated Production Switcher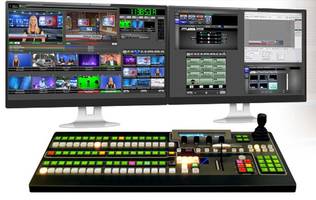 Chelmsford, Mass. – May 15, 2018 – Broadcast Pix today announced CFM-TV, the government channel for the City of Fort Myers, Fla., installed a Mica™ 1000 integrated production switcher in late January as part of an overall refresh of the council chambers at City Hall.
"This has been a big success for the city," said Richard Calkins, technology director for Fort Myers. He estimated CFM-TV covers up to 30 meetings per month in the chambers, between the city council and various advisory boards, and production is usually handled by one employee.
CFM-TV's upgrades included closed captioning systems for its Comcast channel and live web feed, new cameras and microphones in the chambers, and an HD feed for the web. The Mica replaced aging Datavideo and Compix hardware, which helped reduce the amount of equipment in the small CFM-TV control room that is next to the council chambers. Encore Broadcast Solutions in Tampa handled the integration.
In addition to a new ELMO document camera, there are five Sony PTZ cameras installed in the chambers. Three cameras are positioned at the back of the room for coverage of the seven council members on the dais. The fourth provides a view of the podium from the front of the room for citizen comments, while the fifth provides coverage of the city manager and city attorney. The Mica also receives a feed from a PC input at the podium for PowerPoint presentations.
John Downey, IT network technician, praised the flexibility of the Mica, including the customizable multi-view and the choice of control surfaces. CFM-TV has a traditional control panel, but meetings are often switched using a keyboard and mouse. The station does not use many lower-thirds because of the captioning, but Downey hopes to add more graphics and macros as the team becomes more familiar with the Mica.
CFM-TV is "just scratching the surface" of the Mica's capabilities, according to Downey, but initial viewer reactions have been very positive. "It looks a lot better," he added. "People have definitely noticed the difference." 
About Broadcast Pix With a tightly coupled switcher and 3D motion graphics CG, Broadcast Pix provides the most fully integrated live video production systems with patented control and automation technology. From compact units to large-scale, multi-system solutions, every Broadcast Pix features an extensive toolset that makes it easy to optimize and customize your workflows locally and over IP. Plus, its BPNet ecosystem provides secure cloud services and asset management. Founded in 2002, Broadcast Pix has customers in more than 100 countries and is the leader in fully integrated production switchers for government, broadcast, streaming, live event, and visual radio applications. Learn more at www.broadcastpix.com.
PR Contact:
Mark J. Pescatore
Pipeline Communications
Tel: 561-531-3106
mark@pipecomm.com
Related