Circulation Heater suits limited space applications.
Press Release Summary: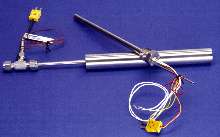 VERSALINE 500 offers high watt density, in-line heating. Compact chamber assembly includes agency approved FIREROD® heater, inlet/outlet lines, high-limit thermocouple sensor, and tubing. It handles flow rates from 1-13 cfm and pressures to 80 psi. FIREROD heater offers max operating temperature of 1400°F. VERSALINE 500 is suitable for analytical fluid warming, medical equipment, and gas in-line heating applications.
---
Original Press Release:

Watlow VERSALINE 500 Offers High Watt Density Heating for Tight Spaces


St. Louis - Watlow's new VERSALINE 500 is designed for in-line heating applications requiring a high watt density circulation heater, but where space is limited. The VERSALINE 500 is ideal for use in analytical fluid warming, medical equipment and gas in-line heating applications.

The new compact chamber assembly includes an agency approved FIREROD® heater, inlet/outlet lines, a high-limit thermocouple sensor and tubing. The size, features and wattage of the VERSALINE 500 can be customized to fit most applications, and the assembly is proven for applications with flow rates ranging from 0.028 to 0.368 CMM (1 to 13 CFM). The product is operational to 80 PSI, and the FIREROD heater offers a maximum operating temperature of 760°C (1400°F).

Its integrated thermocouple and enclosure ensure easy installation and use and eliminates additional parts and wiring. The FIREROD heater has proven performance in air/liquid applications and its high stock levels ensure quick delivery.

The chamber, constructed from a standard pipe surrounding the heater, enables the assembly to be placed in smaller vessels. Other features, such as customer specified locations for inlet/outlet lines and variable chamber diameter/length capabilities, contribute to the VERSALINE 500's suitability in space-restricted applications.

Additional options include a passivated, electropolished sheath finish, the choice of a process or high limit thermocouple, lead protection, camber insulation and varied inlet and outlet sizes.

About Watlow
Since the company's founding in 1922, Watlow has brought its thermal expertise to numerous applications, including power generation, semiconductor, plastics processing, foodservice equipment, life sciences, aerospace and others. Headquartered in St. Louis, Missouri, Watlow is the largest custom designer and manufacturer of industrial heaters, sensors, controllers and software with offices and manufacturing facilities around the
world.

For additional information or the name of the nearest Watlow representative:
Watlow
Phone: 1+ (800) 4-WATLOW, 1+ (314) 878-4600
Fax: 1+ (877) 893-1005, 1+ (314) 878-6814
Internet: www.watlow.com
E-mail: info@watlow.com

Related