Circulating Baths Provide Precise Temperature Control for Supercritical Fluid Extraction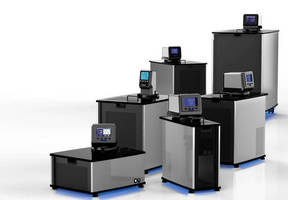 Niles, IL –  A wide selection of refrigerating/heating circulating baths that provide precise temperature control for supercritical fluid extraction (SFE) applications is available from PolyScience. Designed to control temperature with stabilities as precise as ±0.005°C over temperature ranges as broad as -40° to +200°C, PolyScience Circulators are ideal for maintaining supercritical fluids such as carbon dioxide at or above their critical temperature. SFE is used in the food, pharmaceutical, fine chemical, and other industries for applications such as the extraction of flavors and essential oils, coffee and tea decaffeination, fractionation of polymeric materials, and photo-resist and precision part cleaning.



Available in 40 different models, PolyScience Refrigerating/Heating Circulators come in reservoir sizes ranging from 7 to 75 liters and a choice of six different temperature controllers. These versatile Circulators incorporate many innovative and ergonomic features, including a swiveling control head that permits viewing of the temperature display anywhere within a 180° viewing radius, an integral lid docking system for no-mess reservoir cover storage, and a corrosion and chemical resistant top plate that dampens noise and remains cooler at high temperatures.



To learn more, call 800-229-7569 (outside the US +1 847-647-0611), email sales@polyscience.com, visit http://www.polyscience.com/en/category-refrigerating-circulators-baths.php#!/category6-tab16, or fax the company at 847-647-1155.



More from HVAC