Circular Vibratory Separators Increase Production Rates of Zinc Oxide Granules at Umicore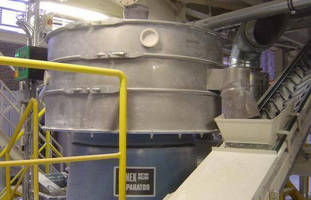 Umicore increases production capacity and improve the quality of zinc oxide granules by replacing an existing centrifugal sieve with the Russell Finex Separator™.



Umicore, a global materials technology group, have a history that dates back more than 200 years. The merging of different mining and smelting companies has made the Umicore Group as we know today, an expert in materials science, chemistry and metallurgy which is successfully active on all continents.



One of Umicore's largest production sites has been producing zinc oxide since 1870 and has a capacity of 55,000 tonnes. The zinc oxide is produced by reducing the most pure zinc with heat, generating zinc vapor. The zinc vapor then reacts with the oxygen in the air to give a powder, namely zinc oxide. A final step in the production process is to check-screen the zinc oxide granules. Umicore use the Russell Finex Separator™ to achieve the correct particle size and to remove the fine dust, making the final zinc oxide granules dust-free.



Production Manager Mr. Erwin Van Eester explains: "Zinc oxide is a powder which gets sticky easily because of the fine dust in the powder. By making the zinc oxide dust-free and granulating it into the right particle size, optimal fluid properties are obtained. When the optimal fluid properties are obtained, the zinc oxide is easier to dose and to transport."



A centrifugal sieve was previously used to process the zinc oxide granules, but because of several operational problems, Umicore started looking for a replacement. The centrifugal sieve was not removing all the fine powdered dust from the product, meaning the zinc oxide could not obtain the optimal fluid properties. Secondly, the centrifugal sieve did not achieve the accuracy and high capacity, which was needed. Finally, as the sieve was not sealed, operators were exposed to the dust fumes.



As a result, Umicore searched for a high capacity and accurate grading separator screen. Through recommendation from another company using their equipment, Umicore approached Russell Finex for a solution. Following a number of successful machine trials, Umicore purchased a 60-inch diameter Finex Separator™ for their production site.



With the Finex Separator™, Umicore are now able to supply their customers with dust-free zinc oxide granules containing the optimal fluid properties. "As the separator is a closed system, this allows for minimum exposure levels to dust, therefore safeguarding the health of our operators", explains Van Eester.



In order to reduce mesh blockages, Umicore applied the Russell Vibrasonic® Deblinding System to the Finex Separator™. Using ultrasonic frequency to break down surface tension on the mesh, the powder is able to pass through the mesh more easily. With the Russell Vibrasonic® Deblinding System mesh blockages have been reduced, enabling capacity to be increased.



Erwin Van Eester concludes: "By using the Finex Separator, we have an accurately sieved product, which meets our customers' needs. This is an extremely effective sieving solution which we would highly recommend to any processor of sticky powders."



For more information, please visit www.russellfinex.com or email sales@russellfinexinc.com



For almost 80 years Russell Finex have manufactured and supplied vibratory separators, industrial filters, screens and sieves to improve product quality, enhance productivity, safeguard worker health, and ensure liquids and powders are contamination-free. Throughout the world, Russell Finex serve a variety of industries with applications including chemicals, food, pharmaceuticals, adhesives, plastisols, paint, coatings, metal powders and ceramics.



More from HVAC