Circular Polarizer Filter offers low birefringence.
Press Release Summary: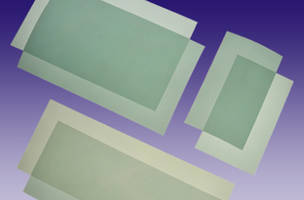 Available in sheet size ranging from 8 x 10 in. up to 18 x 24 in., Circular Polarizer Filter also offers specially shaped filters using in-house laser cutting and waterjet technology for fabrication.. Providing 50% transmission level, units offer high resolution, excellent heat and humid resistance. Designed in neutral grey with right or left-handed polarization, product is used in glare reducing and display in machine vision displays and camera filters.
---
Original Press Release:
Circular Polarizer with 50% Transmission Offers Increased Display Brightness While Reducing Glare
American Polarizers, Inc. (API), a world leader in the manufacture and distribution of polarized filters and other optical products, has developed a new circular polarizer filter with a 50% transmission level. Whereas most circular polarizers have maximum transmission levels of around 42%, the API high transmission circular polarizers assure that more light is transmitted through the filter to the viewer resulting in a brighter display.
"We've focused our expertise in polarized filter manufacturing on achieving an optimum balance between transmission and extinction," said API President Jeff Snyder. "The new API circular polarizer offers design engineers the very latest advance in this area. This is a very unique product that offers a circular polarizer with a transmission level as high as 50%," he said. Snyder went on to say that the API high transmission filters represent a timely addition to the market in light of the current push for increasing energy efficiency in emissive displays.
The filters are available in standard sheet sizes from 8x10 inches up to 18x24 inches as well as custom sizes. To accommodate requests for specially shaped filters, API utilizes in-house laser cutting and waterjet technology to fabricate circular polarizer filters in custom shapes specified by the customer. API will also provide the high transmission circular polarizers laminated to glass or acrylic. Anti-reflection, anti-glare, and conductive coatings may be specified for the acrylic and glass filters.
Optics design engineers will find applications for API's 50% transmission circular polarizers as pre-and clean-up polarizers, glare reducing and display enhancing polarizers, in low light environments, in machine vision displays, in camera filters and elsewhere.
As with all API polarizers, the new API 50% transmission circular polarizer offers low birefringence, high resolution and clarity, excellent heat and humidity resistance and superior durability. The polarizers are offered in neutral grey with right or left-handed polarization.
For more information about circular polarizers with 50% transmission levels contact
American Polarizers Inc.,
141 South Seventh
St., Reading PA 19602.
Tel: 610-373-5177.
Fax: 610-373-2229.
Email sales@apioptics.com.
Web: www.apioptics.com
More from Fluid & Gas Flow Equipment