Circular Fiber Optic Connectors feature precision alignment.
Press Release Summary: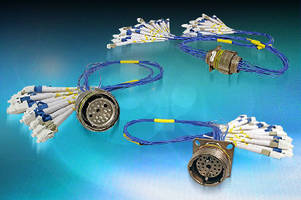 Designed to group multiple fiber optic terminations in rugged circular profile while withstanding harsh environments, PHD 38999 Series is suited for military/aerospace and tactical communication applications. Connectors are compatible with M38999 outside dimensions and feature all-metallic backshell with sealing grommet and removable alignment insert assembly. Supplied with shielding kit, connectors come in 20, 24, 28, and 36 sizes.
---
Original Press Release:

ITT Develops Circular Fiber Optic Connector with Precision Alignment and Superior Optical Performance Capabilities



Fiber optic connector ideal for use in mil/aero, tactical communications applications...

SANTA ANA, CA - ITT Interconnect Solutions, a leading global manufacturer and supplier of connectors, interconnects, and cable assemblies, has developed a family of circular fiber optic connectors for use in harsh environments. Designated the PHD 38999 Series, the fiber optic connectors feature precision alignment and superior optical performance capabilities, and were designed in response to demands for an interconnect system that can group multiple fiber optic terminations in a rugged circular connector profile while also withstanding harsh environments.

"Initially developed for high speed backplane systems in telecom switching applications, the PHD termination and connector system delivers a high density package with superior optical signal transmission performance," said Keith Teichmann, director of marketing for ITT Interconnect Solutions. "The PHD 38999 Series connectors were also designed for packaging flexibility, offering a variety of circular and rectangular MIL specification and standard connector configurations."

The PHD Series fiber optic connectors are ideal for use in military, aerospace and tactical communications applications.

Available as complete custom fiber optic cable assemblies, the PHD fiber optic connectors are compatible with M38999 outside dimensions and feature an all-metallic backshell with a sealing grommet and removable alignment insert assembly. The connector is available in sizes 20, 24, 28 and 36. A shielding kit is also included.

Typical pricing for the PHD 38999 Series pin version (depending on shell size and style) ranges from $240 to $480 each, while pricing for the PHD 38999 socket version with insert assembly (depending on shell size and style) ranges from $360 to $640 each. Lead time is from 12 to 14 weeks.

About ITT Interconnect Solutions

ITT Interconnect Solutions is an international manufacturer and supplier of connectors including circular, rectangular, fiber optic, RF, power and high voltage, audio, PCMCIA, Compact Flash Card, enclosures, cable assemblies, and application specific custom solutions. The Interconnect Solutions portfolio includes the brands Cannon, VEAM, and BIW. For more information on ITT Interconnect Solutions and an archive of its press releases, please visit www.ittcannon.com.

About ITT

ITT Corporation is a high-technology engineering and manufacturing company operating on all seven continents in three vital markets: water and fluids management, global defense and security, and motion and flow control. With a heritage of innovation, ITT partners with its customers to deliver extraordinary solutions that create more livable environments, provide protection and safety and connect our world. Headquartered in White Plains, N.Y., the company generated 2009 revenue of $10.9 billion. www.itt.com

Leads Contact:

Nas Echeverria

ITT Interconnect Solutions

666 East Dyer Road

Santa Ana, CA 92705

Tel.: +714-628-8370

Fax: +714-628-2249

Email: nas.echeverria@itt.com

Web: www.ittcannon.com

More from Software