Circular Connectors are designed for aircraft data networks.
Press Release Summary: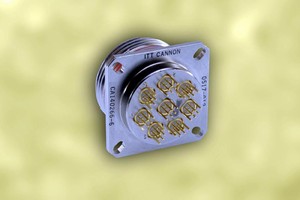 Incorporating contact system that meets MIL-DTL-38999 Series III specifications, Quadrax 38999 Circular Connector Series enables transmission of high speed signals required in Ethernet applications, including in-flight entertainment and information systems. Quadrax contact is size 8 multi-pin contact providing 4 signal pins to yield single Ethernet port. Crimp version of size 8 Quadrax contacts terminates 100(TM) Star Quad cable.
---
Original Press Release:

ITT Expands Quadrax Connector Offering with 38999 Circular Connector Series



Ethernet contact system ideal for in-flight entertainment and information systems...

LAS VEGAS, NV - May 5, 2008 - ITT Interconnect Solutions, a leading global manufacturer
and supplier of connectors, interconnects, and cable assemblies, has expanded its line of connector solutions for aircraft data network systems. Originally designed to meet ARINC 600 specifications, the contact system in these circular connectors now meets MIL-DTL-38999 Series III specifications.

"Due to the popularity of the Quadrax connector housings, we adapted the circular connectors to comply with 38999 Series III requirements to support customers with Ethernet applications in markets other than avionics," said Keith Teichmann, director of marketing for ITT Interconnect Solutions. "We've seen extensive growth of this product line within the past few years, and we fully expect that to continue as more avionics manufacturers and others require high speed Internet transmission."

Also included in the Quadrax connector product offering are the BKA Series and DPX Series rack and panel connectors. The BKA Series connectors feature both rear and front
release/removable, low insertion contacts, and hold 28 or 56 size 8 Quadrax contacts. The connectors are completely intermateable and intermountable with ARINC 600 standards.

The DPX Series rack and panel connectors are offered in single-, two-, three- and four-gang versions and accommodate 7, 14, 21 and 28 size 8 Quadrax contacts, or 8, 16, 24 and 32 size 5 Quadrax contacts, respectively.

The Quadrax system is a four-interconnect contact enabling the transmission of high speed signals required in Ethernet applications, including in-flight entertainment and information systems. The Quadrax contact is a size 8 multi-pin contact providing four signal pins to yield a single Ethernet port. The crimp version of the size 8 Quadrax contacts terminates a 100(TM) "Star Quad" cable. Detailed information about the full Quadrax connector product range, including layouts, contact arrangements and specifications, is available in ITT's new Quadrax catalog. Custom designs not outlined in the catalog are also available.

About ITT Interconnect Solutions

ITT Interconnect Solutions is an international manufacturer and supplier of connectors
including circular, rectangular, fiber optic, RF, power and high voltage, audio, PCMCIA, Compact Flash Card, enclosures, cable assemblies, and application specific custom solutions. The Interconnect Solutions portfolio includes the brands Cannon, VEAM, and BIW.

For more information on ITT Interconnect Solutions and an archive of its press releases, please visit www.ittcannon.com.

About ITT

ITT Corporation supplies advanced technology products and services in several growth
markets. ITT is a global leader in the transport, treatment and control of water, wastewater and other fluids. The company plays a vital role in international security through its defense communications and electronics products; space surveillance and intelligence systems; and advanced engineering and related services. It also serves the growing leisure marine and electronic components markets with a wide range of products. Headquartered in White Plains, NY, the company generated $7.8 billion in 2006 sales.

Keywords: ITT, Interconnect Solutions, Quadrax, connector, avionics, 38999, ARINC 600

Leads Contact:
Nas Hashemian
ITT Interconnect Solutions
666 East Dyer Road
Santa Ana, CA 92705
Tel.: +714-628-8370
Fax: +714-628-2249
Email: nas.hashemian@itt.com
Web: www.ittcannon.com