Circular Cold Saw efficiently cuts large materials.
Press Release Summary: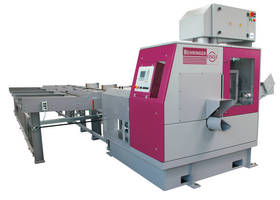 Model HCS 150 Behringer Eisele Automatic Carbide Circular Cold Saw is designed specifically to cut materials up to 5.9 in. in dia for solid rounds and squares up to 5.3 in. in size. System cuts ferrous metals at 90° with carbide-tipped saw blades ranging from 14.1-18.1 in. in diameter. Controlled by PLC, unit can store numerically controlled program applications such as number of pieces to be cut, length, and discharge handling. Machine includes sorting device and automatic chip conveyor.
---
Original Press Release:

New Circular Cold Saw Design for Efficient Cutting of Larger Materials



Morgantown, PA (November 16, 2009) - A high-performance, automatic circular cold saw built to meet specific customer demands for a machine flexible enough to handle volume cutting applications for larger sized materials is available from Behringer Saws, Inc. The HCS 150 Behringer Eisele Automatic Carbide Circular Cold Saw complements a field-proven line of circular cold saws designed to cut a wide range of materials and sizes.

The HCS 150 Behringer Eisele Carbide Circular Cold Saw is designed specifically to cut materials up to 5.9" in diameter for solid rounds and squares up to 5.3" in size. This machine complements Behringer's full line of circular cold saws which provides manufacturers and fabricators with the flexibility to choose a saw best suited to their most common cutting applications and material size requirements.

All HCS models are designed to cut ferrous metals automatically at 90° with carbide-tipped saw blades. This saw utilizes saw blades with diameters ranging from 14.1" to 18.1" and efficiently cuts the toughest metals quickly and cleanly. The HCS 150 Behringer Eisele Carbide Circular Cold Saw can cut through 1.18" diameter 52100 chromium steel in 5 seconds and 3.5" diameter 4142 chrome-moly steel in 18 seconds.

Controlled by a programmable logic controller (PLC), the HCS 150 requires minimal operator intervention with the ability to store numerically controlled program applications such as number of pieces to be cut, length, discharge handling and other sawing parameters. These applications can also be recalled in the future to provide time and labor cost savings.

The HCS 150 Behringer Eisele Carbide Circular Cold Saw's high performance capability is complemented by a sorting device, an automatic chip conveyor and an optional tilting loading magazine to make it one of the most efficient machines in its capacity range on the market today.

Behringer Saws, Inc. provides a full range of sawing and turnkey pre- and post-cut material handling productivity-enhancing products. Behringer supplies world-class quality automatic bandsawing, marking, punching, drilling and shearing systems and high performance circular cold saws to corporations, service centers, job shops and manufacturers throughout the world.

For more information on the HCS 150 Behringer Eisele Carbide Circular Cold Saw or the company's full line of circular cold saws, contact Behringer Saws, Inc., 721 Hemlock Road, Morgantown, PA 19543. Call toll-free at 888-234-7464 or visit Behringer's website at www.behringersaws.com

More from Machinery & Machining Tools