Circuit Simulation Software accelerates prototyping, learning.
Press Release Summary: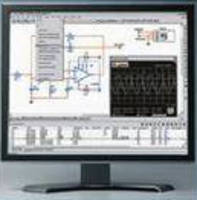 Offered in editions for hands-on learning and professional circuit design, Multisim 11 provides graphical approach that abstracts complexities of traditional circuit simulation. Academic edition incorporates specialized teaching features and is complemented by circuits textbooks and courseware. Professional edition helps users optimize circuit designs, minimize errors, and reduce prototype iterations. Integration with LabVIEW measurement software also helps define custom analyses.
---
Original Press Release:

National Instruments Multisim 11 Simplifies Circuit Simulation for Teaching and Design



New Academic and Professional Software Versions Foster Learning and Streamline Prototyping

NEWS RELEASE - National Instruments today introduced Multisim 11, the latest version of its circuit simulation software, with specialized editions for both hands-on learning and professional circuit design. The easy-to-use Multisim software delivers a graphical approach that abstracts the complexities of traditional circuit simulation, helping educators, students and engineers employ advanced circuit analysis technology.

The academic edition of Multisim 11 incorporates specialized teaching features and is complemented by circuits textbooks and courseware. This integrated system helps educators engage students and reinforce circuit theory with an interactive, hands-on approach to investigating circuit behavior. Widely implemented throughout academia, technical colleges and four-year universities choose Multisim for its interactive components, simulation-driven instruments and integration to real-world analog and digital measurements.

Multisim 11 Professional helps engineers optimize circuit designs, minimize errors and reduce prototype iterations. When combined with the new NI Ultiboard 11 layout and routing software, Multisim provides engineers a cost-effective, end-to-end prototyping platform. Its integration with NI LabVIEW measurement software also helps engineers define custom analyses to improve design validation.

Key benefits of Multisim 11 include the following:

Multisim 11 Academic
-- Simplify digital circuits teaching by exporting raw VHDL from a programmable logic device (PLD) schematic
-- Guide hands-on electronics experiments with new educator-requested AC single-frequency analysis
-- Correlate simulated data with real-world measurements by integrating with the NI Electronic Laboratory Virtual Instrumentation Suite (NI ELVIS) educational prototyping platform

Multisim 11 Professional
-- Simulate better with SPICE parser improvements, updated BSIM models, support for advanced parameters and enhanced digital simulation accuracy
-- Prototype easier and ensure design synchronization and transparency with enhanced forward/backward annotation from the Multisim schematic to an Ultiboard layout
-- Improve design communication with on-page connectors and a new WYSIWYG net naming system

Readers can learn more and watch videos about Multisim 11 by visiting http://www.ni.com/multisim/upgrade.

Additional Resources
NI Circuit Design Educator and Classroom Resources
Texas A&M Incorporates Multisim Throughout Their Curriculum
Using Multisim to Design a Solar-Powered Lantern for Developing Nations

National Instruments in Academia
National Instruments is committed to enhancing engineering and science education worldwide by providing educators and students with powerful graphical system design software, intuitive teaching tools, and modular hardware to connect the curriculum with the real world. Professors and students benefit from powerful, professional tools such as NI LabVIEW graphical development software and NI Multisim, which helps students visualize and implement engineering concepts. The integration of LabVIEW in the classroom creates an effective, dynamic learning environment - from LEGO® MINDSTORMS® Education NXT in primary schools to research laboratories in universities. NI also offers an Academic Site License to provide educators, researchers and students discounted rates on NI products. For more information about NI academic products, curriculum resources and discounts, visit http://www.ni.com/academic.

About National Instruments
National Instruments (www.ni.com) is transforming the way engineers and scientists design, prototype and deploy systems for measurement, automation and embedded applications. NI empowers customers with off-the-shelf software such as NI LabVIEW and modular cost-effective hardware, and sells to a broad base of more than 30,000 different companies worldwide, with no one customer representing more than 3 percent of revenue and no one industry representing more than 15 percent of revenue. Headquartered in Austin, Texas, NI has more than 5,000 employees and direct operations in more than 40 countries. For the past 10 years, FORTUNE magazine has named NI one of the 100 best companies to work for in America.

Pricing and Contact Information
NI Multisim 11 Academic
Priced* from $499; 459; ¥66,000
NI Multisim 11 Professional
Priced* from $1,549; 1,549; ¥228,000
Web: http://www.ni.com/multisim
*All prices are subject to change without notice.

Contact Sales: http://www.ni.com/contact
E-mail: info@ni.com

More from Electronic Components & Devices