Circuit Protectors work with 24 V bus/truck wire harnesses.
Press Release Summary: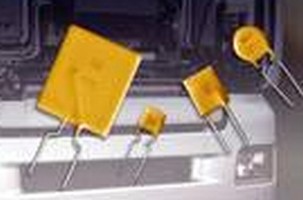 Comprised of 7 products, AHEF family of PolySwitch circuit protection devices provide resettable overcurrent protection for bus and truck wire harnesses utilizing 24 V electrical systems. They offer hold-current ratings from 0.50-10 A with maximum fault-current rating of 100 A. Maximum operating voltage is 32 V and units can operate in temperatures up to 125°C. ROHS- and ELV-compliant, they feature through-hole construction and can be installed onto PCBs with pick and place equipment.
---
Original Press Release:

Tyco Electronics' New PolySwitch Devices Help Provide Resettable Circuit Protection for 24 V Systems Found in Buses and Trucks



MENLO PARK, Calif. - October 22, 2008 - Tyco Electronics introduced today a new line of PolySwitch circuit protection devices for the automotive market. The AHEF family of devices helps provide resettable overcurrent protection for bus and truck wire harnesses utilizing 24V electrical systems.

Key device parameters for the family of seven devices include hold-current ratings from 0.50A to 10A with a maximum fault-current rating of 100A. The maximum operating voltage rating is 32V for all devices, the same as for vehicle electronics in Europe. The maximum operating temperature for all the devices is 125°C, permitting their use not only in the passenger compartment but also in the engine compartment. This is the first product family from Tyco Electronics to offer 32V with a high temperature rating. All the devices are housed in radial-leaded packages.

The devices are tested to the AECQ200 standard and are ROHS and ELV compliant.

Next generation wire harnesses generally have a hierarchal structure with the main power trunks dividing into smaller and smaller branches with overcurrent protection at each node. This structure results in the use of smaller wires - which save volume, weight and cost - as well as maximum system protection and fault isolation.

"To gain maximum savings while achieving maximum system protection, it is difficult to route all the wires in and out of a single junction box that is accessible by the driver," said Jasmine Hu, product manager for Tyco Electronics' Raychem Circuit Protection Products. "By using resettable circuit protection devices, like the AHEF family, multiple junction boxes can be used that don't need to be driver accessible."

"For example," she continued, "they can be placed under the seat or in door panels. And because the devices are rated to 125°C, the junction boxes can be located close to their intended electronics, whether in the passenger compartment, protecting BCUs (Body Control Units), or in the harsh environment of the engine compartment, protecting HVAC controls for example."

The resettable devices are of through-hole construction. They don't need fuse holders to be installed but can be directly installed onto PCBs with "pick and place" equipment, giving system designers added flexibility.

For further information or technical assistance, visit www.circuitprotection.com or call (800) 227-7040.

Price: US$0.22 - US$0.46 in volume of 10k

Availability: Samples available now

Delivery: 8 -10 weeks

ABOUT TYCO ELECTRONICS

Tyco Electronics Ltd. is a leading global provider of engineered electronic components, network solutions, undersea telecommunication systems and wireless systems, with 2007 sales of $13.0 billion to customers in more than 150 countries. We design, manufacture and market products for customers in industries from automotive, appliance and aerospace and defense to telecommunications, computers and consumer electronics. With over 7,000 engineers and worldwide manufacturing, sales and customer service capabilities, Tyco Electronics' commitment is our customers' advantage. More information on Tyco Electronics can be found at http://www.tycoelectronics.com/.

Raychem, PolySwitch, the TE logo and Tyco Electronics are trademarks.

More from Software