Circuit Protection System meets international requirements.
Press Release Summary: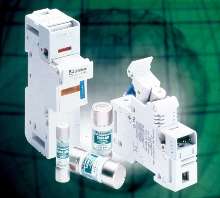 Global Pro circuit protection system is compact, meets IEC size/safety requirements, is compatible with existing automation systems, and can be monitored remotely. Cylindrical fuse dimensions offered are 14 x 51 mm for 30 A, 22 x 58 mm for 60 A, and 27 x 60 mm for 100 A. Fuses feature spring activated, pop-up pin that triggers a snap-action switch for remote blown fuse indication. Neon indicator light within fuseholder identifies blown fuse.
---
Original Press Release:

Littelfuse's New Global Pro Circuit Protection System Meets International IEC Requirements, Features Integrated Remote Signaling Capability


DES PLAINES, IL - The POWR-GARD Products Division of Littlefuse, Inc. (NASDAQ/NMS:LFUS), a leading supplier of circuit protection products, has designed the Global Pro circuit protection system to meet the concerns of industrial equipment designers worldwide. This complete, extremely compact system meets the industry's needs for downsizing -- users will need less physical space for the system and the fuses are smaller than comparable Class J fuses, yet offer the same performance.

The system also meets IEC size/safety requirements for worldwide use, it is compatible with existing automation systems and it can be monitored remotely.

Global Pro meets the needs of the international user, by providing a compact, time-delay fuse and holder system that meets internationally accepted IEC cylindrical fuse dimensions for 30 Amp (14x5lmm), 60 Amp (22x58mm) and 100 Amp (27x60mm) operation and the Touch-Safe requirements of the IEC's IP20 finger safe protection standards. IP20-grade protection is realized by utilizing a totally safe, modular fuseholder that includes a permanently attached pivoting fuse door (for quick and easy fuse extraction) and recessed screw terminals. The Global Pro fuseholder also features a unique lockout tab to meet OSHA requirements and to prevent workers from accidentally energizing equipment that is off-line for repairs or maintenance.

To achieve systems integration and a reduction in downtime, all Global Pro fuses feature a unique spring activated, pop-up
pin that triggers a snap-action switch for remote blown fuse indication. When integrated with your control network, this alert
notifies system operators the fuse needs to be replaced, minimizing potentially dangerous situations and/or downtime. The
pop-up pin also activates a neon indicator light within the fuseholder - helping the user to quickly identify and replace the
blown fuse.

Maximum application flexibility is achieved by the modular design of the fuseholder, allowing use of one, two, three, or any
number of poles. The user can even add poles to an installed system by using a pin-assembly kit to gang the fuseholders.

Installation of the fuseholder is achieved on standard 35mm DIN-rails. Performance benefits of Global Pro fuses include superior protection of motor loads, transformers, control and lighting
circuits. Global Pro fuses also are 27% to 50% smaller than comparable UL Class J fuses (depending on rating) and between
67% and 75% smaller than conventional UL Class R fuses.

Despite the universality of the system, its superior performance and enhanced functionality, this compact new fuse system is cost competitive to traditional UL Class J fuses. OEM volume discounts also are available.

For more information, contact Littelfuse, Inc., POWR-GARD(TM) Products, 800 E. Northwest Highway, Des Plaines, IL 60016,
Phone: 800-832-3873. Fax: 847-391-0890. Or visit the Web site: www.littelfuse.com

About Littelfuse, Inc.

Littelfuse is a global company offering the broadest line of circuit protection products in the industry. In addition to its Des Plaines world headquarters, Littelfuse has manufacturing facilities in England, Ireland, Switzerland, Mexico, China and the Philippines, Irving, Texas as well as in Des Plaines and Arcola, Illinois. It also has sales, engineering and distribution
facilities in the Netherlands, Singapore, Hong Kong, Korea, Taiwan, Japan and Brazil.

Related