Electrical Sensors / Detectors / Transducers
Circuit Monitoring Sensors measure currents up to 160 A.
Press Release Summary: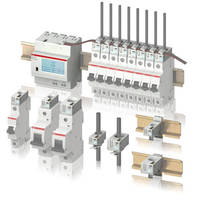 Measuring currents up to 160 A (AC and DC, TRMS), circuit monitoring system (CMS) sensors come in cable tie- and DIN rail-mount versions and can be installed in almost every environment with diverse products. Sensors help increase availability and energy efficiency of electrical plants and machinery. Capable of monitoring all branches to ensure system continuity, sensors can also perform rough cost allocations on branch level when used with controller.
---
Original Press Release:

ABB's CMS Sensor Portfolio Now Measures Currents up to 160 Amps



CMS sensors now can be installed in almost any environment, with any product



MEMPHIS, Tenn. – ABB's new circuit monitoring system (CMS) sensor portfolio has been extended with sensors that measure currents up to 160 amps (AC and DC, TRMS), and can be installed in almost every environment with any product.



"Our CMS sensor portfolio is not limited to ABB miniature circuit breakers, but can be used with many different products, in virtually any application that requires monitoring the circuit current," said Egon Hillermann, product marketing manager for CMS sensors at ABB. "With the addition of sensors that measure currents up to 160 amps, as well as cable tie- and DIN rail-mount versions, the portfolio can now meet considerably more needs in the industry."



CMS sensors are among the most compact on the market, and are designed for high performance. The system consists of a control unit and sensors with different measurement ranges and mounting options. Up to 64 sensors can be connected to each control unit. The sensors are linked to the control unit via a flat cable. Measurement data are remotely accessible via a RS485 Modbus RTU interface.



CMS sensors are designed to help increase the availability and energy efficiency of electrical plants and machinery. They are capable of monitoring all branches to ensure system continuity, which is particularly important in critical power applications. When used in combination with a controller, CMS sensors can also perform rough cost allocations on a branch level.



Other features of CMS censors include:

·   –   Minimal space requirements – CMS sensors feature compact sizes that require little      or no additional mounting space in the enclosure. This enables retrofitting in existing      installations.

·   –   Easy commissioning – CMS sensors also feature intuitive navigation that enables the      system to be set up on its touch screen within minutes.

·   –   Expandable operation – CMS sensors are freely scalable, which allows the user to      choose the number of measurement points needed.

·   –   Easy installation – All components of CMS sensors are linked on one flat cable, which      leads to an overview of the distribution unit. By becoming operable with a few clicks,      CMS sensors reduce installation time.

·   –   One sensor for all types of current – CMS sensors measure AC and DC current      (TRMS), making them universally applicable.



ABB's extension of the CMS sensors portfolio has enhanced the number of applications and broadened their use in current monitoring of electrical systems.



About ABB

ABB (www.abb.com) is a leader in power and automation technologies that enable utility, industry, and transport and infrastructure customers to improve their performance while lowering environmental impact. The ABB Group of companies operates in roughly 100 countries and employs about 140,000 people.



For more information, please contact:

Kurt Andersen

Harris, Baio & McCullough

Phone: (215) 440-9800

email: kurt@hbmadv.com



Harry Hurst

Harris, Baio & McCullough

Phone: (610) 725-9600

email: harry@hbmadv.com

More from Machinery & Machining Tools