Circuit Breakers standardize equipment designs.
Press Release Summary: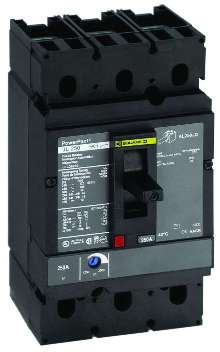 Powerpact 150 A H-frame and 250 A J-frame molded case circuit breakers simplify installation and utilize varied types of actuation, including cable-operated handles, rotary handles, and electrical motor operators. They share common mounting points and handle locations and are equipped with thermal magnetic trip system. Field-installable accessories include auxiliary switches, alarm contacts, and shunt trips.
---
Original Press Release:

New Square D Powerpact Circuit Breakers Simplify Installation and Standardize Equipment Designs


PALATINE, Ill. - May 17, 2004 - New molded case circuit breakers from Schneider Electric deliver unmatched application flexibility. The new Square D® Powerpact 150A H-frame and 250A J-frame molded case circuit breakers are well-suited to a wide range of applications, providing a full compliment of field installable accessories, field installable trip units and improved interrupting ratings.

This new line of Powerpact circuit breakers features common mounting points and handle locations for both the 150A H-frame and 250A J-frame circuit breakers, allowing customers to save money with standardized mounting pans, door trims, and equipment designs. Both frames have a very compact design and utilize many types of actuation, including cable-operated handles, rotary handles and electrical motor operators, providing a reduced size and greater design freedom for customers' equipment needs.

Both the H- and J-frame circuit breakers have been developed to simplify installation and make modifications fast and easy. Changing terminations from bus-bar to lug applications can be done with a unique snap-in design. Many field installable accessories are available, including auxiliary switches, alarm contacts, and shunt trips that are easy to install and highly reliable.

Both circuit breakers are equipped with a thermal magnetic trip system that may be field installed. Special 100% rated construction will be available to increase distribution capacity. The H- and J-frame is a true global product with certifications to UL, IEC, CSA and NOM standards.

Service personnel will enjoy the installation ease, companies will save money with standard designs, and designers will find solutions with the technical data they need, including 3D CAD models.

The new H-frame and J-frame circuit breakers are now available for sale. Samples for design integration activities are also available. The new molded case circuit breakers will be introduced into factory-assembled equipment applications in late 2004.

For more information about Square D® products from Schneider Electric, call 1-800-392-8781 or visit us.squared.com.

Headquartered in Palatine, Ill., the North American Operating Division of Schneider Electric had sales of $2.5 billion (U.S.) in 2003. The North American Operating Division is one of four operating divisions of Schneider Electric, headquartered in Paris, France, and markets the Square D®, Telemecanique® and Merlin Gerin® brand products to customers in the United States, Canada and Mexico. In the United States, Schneider Electric is best known by its flagship Square D brand, with Telemecanique becoming increasingly known in the industrial control and automation markets and supported by many Square D distributors. For 100 years, Square D has been a market-leading brand of electrical distribution and industrial control products, systems and services. Schneider Electric is a global electrical industry leader with 2003 sales of approximately $9.9 billion (U.S.). Visit Schneider Electric on the Internet at:

· Corporate - www.us.schneider-electric.com
· Telemecanique Products - www.us.telemecanique.com
· Square D Products - us.squared.com
· Merlin Gerin Products - us.merlingerin.com

Square D Literature Fulfillment Center
W6454 Quality Drive
Greenville, WI 54942
Attention: Joan Kilgas
800-392-8781
or e-mail to: squaredlim@banta.com

More from Controls & Controllers