Circuit Breakers offer protection for dc applications.
Press Release Summary: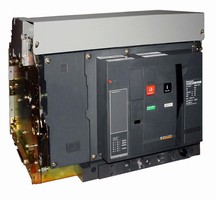 Suitable for use on ungrounded, uninterruptible power supplies, Masterpact® NW molded case circuit breakers feature amperage ratings of 800-4,000 A and voltage ratings of 600 Vdc floating and 500 Vdc loaded. They are tested to meet UL 489 Supplement SC and IEC 60947-2 standards. Available in fixed and drawout construction, breakers are available with options for industrial and specialty machinery, and pump controller, water/wastewater, and HVAC facility and infrastructure.
---
Original Press Release:

Square D® Introduces Masterpact® NW Molded Case Circuit Breakers with DC Ratings



PALATINE, Ill. - September 13, 2006 - New Square D® Masterpact® NW molded case circuit breakers now offer a broad range of protection for DC applications. The new DC breakers offer the smallest footprint in the industry and are factory-tested and calibrated, greatly reducing installation time and cost. Ease of operation and effortless configuration, combined with minimal maintenance over a long service life, make them the best choice for critical applications.

"These new breakers are ideal for use on critical power DC applications such as battery UPS systems, transit applications and DC back-up systems in power plants and substations," said Alan Kuntz, Square D Circuit Protection Product Specialist. "This gives our customers the opportunity to use a proven product in many new areas."

For flexible installation options, the new Masterpact NW circuit breakers are available in both fixed and drawout construction, with circuit breaker or switch options to fit a variety of additional applications, including:

o Industrial machinery, such as packaging and conveyance and food/beverage
o Specialty machinery, such as car wash systems
o Facility and infrastructures, such as pump controllers, water/wastewater controls, HVAC controls and security door controls

With amperage ratings of 800A to 4000A and voltage ratings of 600Vdc floating and 500Vdc loaded, the breakers are suitable for use on ungrounded, uninterruptible power supplies. They are tested to meet UL 489 Supplement SC and IEC 60947-2 standards for DC circuit breakers. Models suitable for all types of IEC systems feature amperage ratings of 1000A to 4000A and voltage ratings of 500V, 750V and 900Vdc.

Headquartered in Palatine, Ill., the North American Operating Division of Schneider Electric had sales of $2.8 billion (U.S.) in 2005. The North American Operating Division is one of four operating divisions of Schneider Electric, headquartered in Paris, France, and markets the Square D, Telemecanique and Merlin Gerin brand products to customers in the United States, Canada and Mexico. In the United States, Schneider Electric is best known by its flagship Square D brand, with Telemecanique becoming increasingly known in the industrial control and automation markets and supported by many Square D distributors. For 100 years, Square D has been a market-leading brand of electrical distribution and industrial control products, systems and services. Schneider Electric is a global electrical industry leader with 2005 sales of approximately $14.5 billion (U.S.). Visit Schneider Electric on the Internet at:

Corporate - www.us.schneider-electric.com
Telemecanique Products - www.us.telemecanique.com
Square D Products - us.squared.com
Merlin Gerin Products - us.merlingerin.com

This release is submitted for consideration in both print and Web publications.

Please send all reader inquiries to:
Square D Literature Fulfillment Center
W6545 Quality Drive


More from Adhesives & Sealants