Circuit Breakers feature current range to 3,000 A.
Press Release Summary: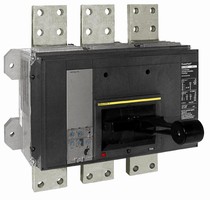 Powerpact® R-frame molded case circuit breakers are offered with 80 and 100% ratings with interrupting ratings of 35, 65, and 100 kA at 480 Vac. RL3TB terminal kits for bussing are included, and 15 x 16.5 x 6.63 in. breakers are available in unit-mount models from 600-3,000 A, and I-line models up to 1,200 A. UL 489 listed circuit breakers include Micrologic® trip unit technology that facilitates Modbus® communication interface, power metering, and harmonic analysis.
---
Original Press Release:

Square D® Extends Powerpact® Breakers to 3000A



PALATINE, Ill. - September 5, 2006 - The maximum standard amperage ratings range of the Square D® Powerpact® R-frame molded case circuit breakers has been extended to 3000A, making them the first UL 489 listed molded case circuit breakers available at that rating. With the range extension, the R-frame breakers can replace bulkier, more expensive, insulated case breakers, providing users more flexibility with lower installation time and cost, along with a smaller footprint.

For panel builders and electrical distribution equipment manufacturers, the unit-mounted Powerpact R-frame breakers can fit a variety of applications, including main service, feeders and high-current branches. They are also ideal for panels and equipment requiring high currents, such as back-up power, generators and HVAC.

"Our customers were looking for more capacity in a molded case breaker, allowing them greater flexibility in commercial and industrial applications, while incorporating the proven quality and reliability of our flagship Powerpact circuit breaker line," said Leland Walker, Square D Powerpact Product Manager. "We were able to incorporate many common design elements and provide flexibility through multiple mounting configurations and standardized accessories."

These R-frame circuit breakers are offered with 80 percent and 100 percent ratings with interrupting ratings of 35kA, 65kA and 100kA at 480Vac. They include the RL3TB terminal kits for bussing or optional cable lugs. The breakers are available in unit-mount models with ratings from 600A to 3000A, and I-line® models up to 1200A.

Powerpact R-frame circuit breakers include Micrologic® trip unit technology that facilitates Modbus® communication interface, power metering and harmonic analysis. They combine flexible connection capabilities, high interrupting ratings and field-installable accessories into a small footprint - only 15 inches high, 16.5 inches wide and 6.63 inches deep. Furthermore, dual UL 489 and IEC 60947-2 ratings allow the breakers to be sold and used throughout the world.

Common catalog numbers across the Powerpact range, standardized ratings and a full range of field-installable accessories make product selection, installation and maintenance easier than ever. Powerpact breakers are developed to include many common design elements and field-installable accessories that are interchangeable across the range. This standardization simplifies the design and selection process, reduces installation time and expense, and decreases inventory requirements, while providing industry-leading circuit breaker performance and reliability.

Headquartered in Palatine, Ill., the North American Operating Division of Schneider Electric had sales of $2.8 billion (U.S.) in 2005. The North American Operating Division is one of four operating divisions of Schneider Electric, headquartered in Paris, France, and markets the Square D, Telemecanique and Merlin Gerin brand products to customers in the United States, Canada and Mexico. In the United States, Schneider Electric is best known by its flagship Square D brand, with Telemecanique becoming increasingly known in the industrial control and automation markets and supported by many Square D distributors. For 100 years, Square D has been a market-leading brand of electrical distribution and industrial control products, systems and services. Schneider Electric is a global electrical industry leader with 2005 sales of approximately $14.5 billion (U.S.). Visit Schneider Electric on the Internet at:

Corporate - www.us.schneider-electric.com
Telemecanique Products - www.us.telemecanique.com
Square D Products - us.squared.com
Merlin Gerin Products - us.merlingerin.com

This release is submitted for consideration in both print and Web publications.

Please send all reader inquiries to:
Square D Literature Fulfillment Center
W6545 Quality Drive
Greenville, WI 54942
Attention: Sue Tebo
800-392-8781
or e-mail to: SquareD@banta.com

Schneider Electric
North American Operating Division
1415 South Roselle Road
Palatine, IL
60067-7399
Tel. (1) 847-397-2600
Fax (1) 847-925-7271
http://www.us.schneider-electric.com

More from Welding Equipment & Supplies