Circuit Breaker Unit offers auto reset capability.
Press Release Summary: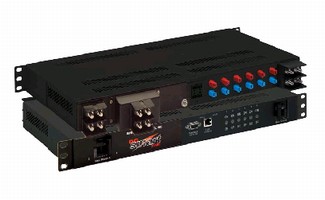 Combining high-power, direct-feed breakers with discrete low-power breaker channels, Hybrid DC SMARTstart provides remote breaker cycling capabilities within same 1RU package for applications with both direct-feed high power and intermediate power requirements. Input voltage range is 38.5-72 Vdc with individual output steady state load range of 4-100 A. Device includes SNMP agent and onboard event log that can track up to 6 months of data.
---
Original Press Release:

New Intelligent Solid State Battery Distribution Circuit Breaker Unit



Accommodates Direct-Feed High and Intermediate Power Requirements

Fairview, PA - March 12, 2007 - Spectrum Power Management Systems presents a new hybrid of two standard battery distribution circuit breaker DC SMARTstart models that combine high power direct-feed breakers with discrete low power breaker channels. This new SMARTstart configuration will allow the Power Distribution Unit (PDU) to provide remote breaker cycling capabilities within the same 1RU package for applications with both direct-feed high power and intermediate power requirements.

Spectrum Power Management's new Hybrid DC SMARTstart provides easy power cycling to DC powered routers/switches, DSLAMS and other enterprise or telecom related equipment. This unit features auto reset circuit breaker capability with a high power circuit breaker rated from 30 to 100 Amps for higher rated applications, and individual discrete solid state breakers for low to intermediate rated current rating from 2 to 20 Amps per channel. Integral to the PDU is the feature to perform a low voltage disconnect in the same package without the need of an additional piece of hardware. The input voltage range is 38.5 - 72 VDC with an individual output steady state load range of 4 - 100 Amps.

This hybrid also includes an SNMP agent and on-board event log that can track up to 6 months of data, is flash upgradeable in the field and provides reverse polarity protection. Spectrum's new SMARTstart monitors battery feed voltage status and the internal temperature of the PDU while the front panel mounted ROCBs (remote operated circuit breakers) provide over current protection.

Applications for this high/intermediate power DC SMARTStart include geographically remote sites with a DC power plant, portable telecom equipment, USV/Unmanned Surface Vessels for defense and homeland security, mobile observation towers, automated test sets designed to simulate real time power outages and data centers.

Spectrum has developed an online configuration tool for easy product selection. Delivery ranges from 1 to 4 weeks.

About Spectrum Control
Spectrum Control, an ISO 9001 and QS 9000 certified company, designs, manufactures and markets a broad line of EMI/RFI filters and power components, power management systems, microwave components, and position sensors and controls.

Spectrum Power Management Systems produces AC and DC power distribution and remote management systems. Products include off-the-shelf SMARTstart products as well as customized products or systems designed to suit specific user requirements. DC power circuit breaker & fuse interface panels, power outlet strips and data acquisition modules are also offered.

Spectrum Sensors & Controls Precision Positioning Sensors Operation manufactures a variety of precision co-molded conductive plastic potentiometers and position s ensors, as well as element segments and cable assemblies. Designs for these potentiometers and position sensors include rotary, motorized, hollow shaft, linear and fader types, as well as custom assemblies. The company's Advanced Thermal Products Operation produces temperature sensing probes and assemblies, PTC and NTC thermistors and resistive temperature detectors (RTDs).

The Spectrum Control EMI Filters and Components Group produces discrete surface mount EMI filters, resin sealed and hermetically sealed EMI filters, EMI filtered arrays, EMI filtered connectors, ESD/EFT protected connectors, filtered data-com connectors, gaskets and shielding, patch antenna elements, single line filters, filtered terminal blocks, power entry modules, power line filters, military/aerospace multi-section filters, and commercial custom assemblies.

Spectrum Microwave is a wholly owned subsidiary of Spectrum Control, Inc. and produces a wide range of microwave compo nents and systems. Integrated Microwave Systems include switchable filter banks, low noise amplifiers, local oscillator multipliers, microwave synthesizers, digitally tuned oscillators and integrated assemblies. Microwave Filters include bandpass filters and duplexers, lumped element filters, cavity filters, waveguide filters, tubular filters, base station products and resonators. Frequency Control Components include a wide range of amplifiers, mixers, voltage controlled oscillators (VCOs) and dielectric resonator oscillators (DROs).

For further product information, contact, Len Marsala, Spectrum Power Management Systems, 1900 West College Avenue, State College, PA 16801, Phone: 814-474-4362 Fax: 814-474-3110, Email: marsala@specpower.com, Website: www.specpower.com

More from Computer Hardware & Peripherals