Circuit Breaker Switch integrates undervoltage protection.
Press Release Summary: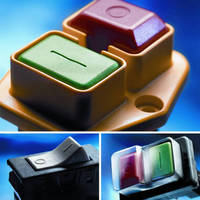 Comprised of 2-pole appliance switches with built-in undervoltage trip release, UP1 series prevents uncontrolled restarts by monitoring and tripping under conditions of extreme voltage drop or when supply voltage is interrupted. Manual switch to On position is required, preventing harmful situations for operators, and others in surrounding work area. Pushbutton version offers snap-in and screw-on (flange) mounting, while rocker version is snap-in only.
---
Original Press Release:

New Switch with Built-in Undervoltage Release Protects Operator Safety



Santa Rosa, California - Schurter is pleased to announce a new 2-Pole appliance switch with built-in undervoltage trip release. The new series, dubbed UP1, prevents uncontrolled restarts by monitoring and tripping under conditions of extreme voltage drop, or when the supply voltage is interrupted. Even when the supply voltage returns in full, the machine or equipment does not automatically restart, but must be manually switched on again. Using such a device can prevent harmful situations for operators, as well as others in the surrounding work area.

The UP1 with pushbutton or rocker actuation is a circuit breaker with undervoltage protection, and without overload protection. The pushbutton version is available in both snap-in and screw-on (flange) mounting, while the rocker version is designed for snap-in mounting. IP rated protection covers are offered to prevent ingress of water spray and dust in machinery that operates in harsh environments, such as construction sites, woodworking, metal or masonry shops. The covers can be supplied factory mounted with the breaker or separately for customer mounting.

Applications for undervoltage protection include products such as landscaping equipment, wood chippers, floor cleaning and sanding devices, electrical tools like circular saws, band saws, grinding machines and drills. Other application examples include fuel pumps, coffee-milling devices, fruit juice squeezing machines and fruit juice centrifuges.

The UP1 undervoltage circuit breaker configuration provides a corresponding part number according to switching and mounting features, and supply voltage. The rated switching utilization category is AC-1 16A / AC-3 14.5A @ 115/120 and 230/240 VAC. The UP1 is approved according to IEC 60947-4-1, UL 508, CSA 22.2 No.14-95.

Pricing starts at about $16.00 each per 100 pieces. More information on the new UP1 can be found on Schurter's website www.schurterinc.com/new_cbes. For sales and product information contact Cora Umlauf at 800 848-2600 or info@schurterinc.com.

About Schurter Inc.
The Schurter Group was founded in Switzerland in 1933. With its more than 75 years in business, Schurter continues to be a progressive innovator and manufacturer of Fuses and Varistors, Circuit Breakers, Power Entry Modules & Connectors, Input Systems, EMC Products, as well as providing manufacturing services for the electronic and electrical industries worldwide. Schurter's product innovation focuses on safe supply of power and making the interface between human and machine easier. Schurter's market focus is in the area of IT / Telecom, Medical, Space and Renewable Energy. Schurter, Inc. Santa Rosa, California, is the exclusive North American sales and distribution office for the Schurter Group.

SCHURTER INC.
447 Aviation Boulevard
Santa Rosa, CA 95403
Telephone 707 636 3000
Facsimile 707 636 3033
www.schurter.com

Related