Miscellaneous Cleaning Equipment
CIP System cleans human vaccine production systems.
Press Release Summary: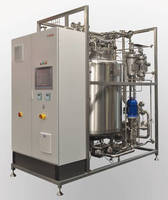 CIP (Cleaning in Place) system, offering facilitated program parameterization via menu-based touch control panel, cleans pharmaceutical purification equipment with finished active substance concentrate while simultaneously thermally inactivating wastewater. While system and all modules are designed according to biosafety level 3 (BSL 3), completely closed system design keeps viruses from escaping to outside. Volume of 800 L enables cleaning of process tanks with useable volume of ~2,000 L.
---
Original Press Release:

Bosch Introduces CIP System Specifically for Use with Human Vaccines



Closed system for high operator protection

• Compact skid design facilitates handling

• CIP tank with a volume of 800 liters

• High cleaning quality and process efficiency



Nuremberg, Germany – At TechnoPharm 2014, Bosch Packaging Technology, a leading supplier of process and packaging technology, presents the special version of a CIP (Cleaning in Place) system. "The exhibited system serves for cleaning and wastewater inactivation of various process systems used in the production of human vaccines," explained project manager Volker Kempf. "It meets the highest safety requirements. In addition, it is easy to transport, quick to set up, and easy to handle." The CIP system is manufactured by Pharmatec, a subsidiary of Bosch Packaging Technology.



The development of human vaccines comprises three successive process steps: preparation, purification, and formulation. During the first phase, eggs are inoculated with virus-containing material for selective replication of viruses in the laboratory. To separate the viruses, the egg-based preparation is purified in several steps by means of filtration and addition of buffer solutions. The CIP system from Bosch is used for cleaning the pharmaceutical purification equipment, which ranges from the harvesting system to a variety of filtration and separation systems to the process tank with finished active substance concentrate, and at the same time thermally inactivates the wastewater.



Operator safety is the highest priority

Handling of live viruses poses a threat to the staff and requires high equipment security measures. Consequently, the CIP system and all system modules are designed according to biosafety level 3 (BSL 3). To keep viruses from escaping to the outside, Bosch has designed a completely closed system with fixed piping and a hermetic CIP pressure vessel. The pumps for supply and return of rinsing media are equipped with double mechanical seals and sealing liquid (pure steam condensate) in the space between the seals, ensuring that no contaminated cleaning media escapes into the environment.



Easy operation with the touch panel

The system in compact skid design provides essential advantages to the user: Due to its modular construction, it can be transported easily, as well as set up and connected to the media supply of the building quickly. If production is moved to another location, the system can be reinstalled at the new site without difficulty. The touch control panel with a user-friendly menu enables simple parameterization of the cleaning program. All components and parts coming in contact with the media are made of stainless steel and fitted with a high-quality surface. Hence the system can clean itself without residue between applications, and can be sanitized with water for injection (WFI) at a temperature of 125 degrees Celsius. As a satellite system, the CIP system is designed for cleaning of various process systems on a rotating basis, as well as for cleaning of tubing or loops. With a volume of 800 liters, the CIP tank has the necessary size to clean process tanks with a useable volume of approximately 2000 liters. Sodium hydroxide, which is prepared in a separate tank, is used as the cleaning medium.



Based in Waiblingen near Stuttgart, Germany, and employing 5,600 associates, the Bosch Packaging Technology division is one of the leading suppliers of process and packaging technology. At over 30 locations in more than 15 countries worldwide, a highly-qualified workforce develops and produces complete solutions for the pharmaceuticals, food, and confectionery industries. These solutions are complemented by a comprehensive after-sales service portfolio. A global service and sales network provides customers with local points of contact. Additional information is available online at www.boschpackaging.com



The Bosch Group is a leading global supplier of technology and services. In 2013, its roughly 281,000 associates generated sales of 46.1 billion euros. (NB: Due to a change in accounting policies, the 2013 figures can only be compared to a limited extent with the 2012 figures). Its operations are divided into four business sectors: Automotive Technology, Industrial Technology, Consumer Goods, and Energy and Building Technology. The Bosch Group comprises Robert Bosch GmbH and its roughly 360 subsidiaries and regional companies in some 50 countries. If its sales and service partners are included, then Bosch is represented in roughly 150 countries. This worldwide development, manufacturing, and sales network is the foundation for further growth. In 2013, the Bosch Group invested some 4.5 billion euros in research and development and applied for some 5,000 patents. This is an average of 20 patents per day. The Bosch Group's products and services are designed to fascinate, and to improve the quality of life by providing solutions which are both innovative and beneficial. In this way, the company offers technology worldwide that is "Invented for life."



Additional information is available online at www.bosch.com, www.bosch-press.com and http://twitter.com/BoschPresse

More from Test & Measurement