Cintec America Provides Anchoring Systems for NYC MTA Subway Station Retrofit Project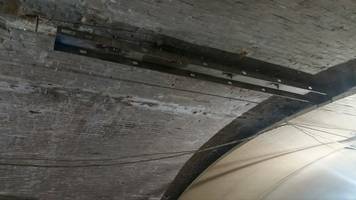 Anchoring System for Overhead GFRC Panels for Subway Station Retrofit
New York City Transit managers had learned in 1999 that a portion of the ceiling at 181st Street was at risk of collapse. However, it did not begin a comprehensive assessment of the ceiling's condition until June 2009. On August 16, 2009, at 10:18 p.m., a large section of the arched brick ceiling at the 181st Street Station on the IRT Line fell onto the platforms and tracks. Fortunately, no one was injured by the falling bricks and subway service to the station was immediately suspended.
After an exhaustive NYC Transit Authority testing regiment and evaluation of all the anchoring systems available in the United States. The Cintec custom designed anchoring solution was selected to hold up the fire and water proof ceiling panels over the train station. Cintec anchors were also selected to retain the bricks that line the walls.
The overhead panels had to be raised in place up to the ceiling with a custom designed crane which were then attached to a mounting clip system that is held in place by the Cintec anchors, as shown in picture Top Track. The Side View picture shows the ceiling panel attachment at the side wall and an additional anchor in the center edge of the panel attachment to the ceiling. The picture Finished Ceiling Nov 11 shows the new panels attached to the ceiling. I the center of the picture are the panels to be installed. Please note that all the contraction was done on raised platform above the train station and the tracks. Keep in mind this station is 120 ft below ground.
About CINTEC
CINTEC America is a world leader in the field of structural masonry retrofit strengthening, repair, and preservation. CINTEC America of Baltimore, MD, has associated offices in Newport, Wales, UK; Ottawa, Canada and in India.
The principal activity of the company is the design and manufacture of the CINTEC Reinforcing Anchor System, a micro cement anchoring and reinforcing technique. CINTEC offers complete structural analysis and design services, turn-key solutions, as well as masonry repair and reinforcement anchors used for blast protection, seismic reinforcement, historic preservation and overall building strengthening.
CINTEC was awarded the 2002 Queen's Award for Enterprise in Innovation and received two U.K. Historic Bridge Awards and an Engineering Excellence Award from The Institution of Engineers, Australia
For more information, call 1-800-363-6066;
fax: 1 800.461.1862;
e-mail: solutions@cintec.com
or visit www.cintec.com.
Contact:
Judi Handel
McNeil, Gray & Rice
(617) 367-0100, ext. 122
More from Test & Measurement