Cincinnati Offers Autoform Hydraulic Press Brake with Angle Measuring Technology
Press Release Summary: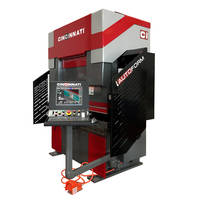 The 60-Ton Autoform Hydraulic Press Brake comes with six-axis backgage and a full 6 ft long bed length. The unit features ram repeatability of ± 0.0004 in., stroke length of 11 in. and programmable forming speeds ranging from 1 to 120 in. per minute. The system automates the manual method of measuring and adjusting bend angles. It is suitable for fabricating small and complex parts with improved throughput. The press brake features 83 wide x 48 in. deep base and a swinging pendant control.
---
Original Press Release:
Cincinnati Incorporated to Introduce 60-Ton Autoform Press Brake at FABTECH
Harrison, OH – September 20, 2018 – Cincinnati Incorporated (CI) will introduce its newly enhanced 60-ton Autoform Hydraulic Press Brake at FABTECH in Atlanta (November 6 – 8). This next iteration of the 60-ton Autoform is the company's first compact hydraulic machine available with a six-axis backgage and a full 6-foot long bed length.
"Many fabricators now realize the benefits of routing smaller parts to compact machines to free up traditionally-sized machines for larger and heavier components," said Todd Kirchoff, Manager of Vertical Motion Products for CI. "The small footprint of the hydraulic Autoform complements our line of compact electric press brakes and allows for more efficient production of smaller parts." The base dimensions are 83" wide x 48" deep. The machine includes a swinging pendent control that can be positioned in front or at the side.
Key features of the new Autoform include exceptional ram repeatability (± 0.0004"), longer stroke length (11") and fast forming speeds (programmable from 1 to 120 inches per minute). The available six-axis backgage gives it the ability to excel at fabricating small, complex parts with greater throughput than a larger machine.
The Autoform also incorporates many of the same advanced features introduced on the company's electric Goform press brake, including the innovative Angle Measuring technology. This feature automates the manual method of measuring and adjusting bend angles. During production, a high-speed digital camera, mounted to the machine, captures images of the bend. The images are analyzed and the press is commanded to continue bending until the part is within the desired tolerance.
The operator interface, key for this feature, was developed in-house by Cincinnati software engineers. Feedback from Cincinnati users resulted in a unique interface that is easy to use. With this system, inexperienced operators can produce quality parts with minimal instruction.
The 3D control graphics and available six-axis backgage make the 60-ton Autoform ideal for forming the complex shapes often created with advanced solid model design software. The Autoform is also easy on operators due to its compact ergonomic design. The machine's controls can be reached with minimal movement. A sleek, modern look completes the package.
To see the updated 60-ton Autoform in action, visit us at FABTECH on November 6-8 in Booth# B8439 or visit www.e-ci.com to learn more.
ABOUT CINCINNATI INCORPORATED – Cincinnati Incorporated, headquartered in Harrison, OH, provides manufacturers with accurate and dependable laser cutting and automation systems, plasma cutting systems, press brakes, shears and conveyor systems, powder metal presses, and large and small scale additive manufacturing solutions. The company was founded in the late 19th century and is a 2018 "Best Place to Work" recipient.
For More Information:
Public Relations:
Liz Strauchen
Account Supervisor
Ivor Andrew
1901 North Gave Ave.
Wheaton, IL 60187
Tel: 630-588-8320
Email: liz@ivorandrew.com
Website: www.ivorandrew.com
General Information:
Matt Garbarino
Director of Marketing Communications
Cincinnati Incorporated
7420 Kilby Road
Harrison, OH 45030
Tel: 513-367-7100
Email: matt.garbarino@e-ci.com
Website: www.e-ci.com
More from Electrical Equipment & Systems