Cincinnati Company Offers Medical Manufacturers the Solution to Wasted Inspection Time and Cost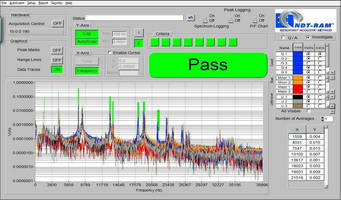 November 20, 2009, Cincinnati, OH - Providing consistent quality, increasing yield and reducing costs are key to successful manufacturing. The Resonant Acoustic Method NDT (NDT-RAMTM ) system from THE MODAL SHOP, INC., saves medical device manufacturers time and money by detecting internal and external flaws as fast as a part per second.
This resonant inspection nondestructive test system applies a simple impact to metal injection molded (MIM) medical parts, surgical screws, and artificial bones and measures each part's response using a precision PCB Group microphone for NDT-RAM to provide 100% quality assurance testing. Unlike traditional visual inspections, which are inefficient, time-consuming and unreliable, the NDT-RAM method can detect both internal and external flaws; thereby, reducing liability and preventing the need for containment and re-sort of large quantities of product.

"In an industry with patient safety-critical parts, often needing a 100% inspection, the NDT-RAMTM system can significantly reduce the need for subjective visual inspectors, thus reducing the inevitable human error of missed flaws, as well as reducing cost for inspection," said Gail Stultz, NDT Product Manager of THE MODAL SHOP, INC.

While X-ray, scanning and dimensional testing of each part can find external flaws, NDT-RAMTM is a whole part test - discovering external and internal flaws at the rate of approximately one second per part. By testing the natural resonant frequencies of each piece against a set of known quality conforming pieces, structural flaws are found to the ASTM E2001-08 standard. All parts on the manufacturing line are tested in the same manner, increasing the customer's confidence in defective-free shipments.

THE MODAL SHOP, INC. offers no-cost parts evaluations with the NDT-RAMTM system to analyze the time and cost savings possible based on the unique needs of each individual manufacturing company. One such trial resulted in a manufacturer eliminating the need for four of its six visual inspectors on two shifts, saving more than $192,000 per year.

NDT-RAM can be used to test parts with less than a day of training after installation. In addition, THE MODAL SHOP, INC. offers significant trade-in credit for customers with outdated or complicated competitive systems.

For free parts testing, specification sheets, application data, competitive product upgrades, pricing or to schedule a rental or demonstration, please contact THE MODAL SHOP, INC. at (800) 860-4867 by e-mail at ndt@modalshop.com or online at ndt-ram.com.THE MODAL SHOP, INC is located at 3149 E. Kemper Road Cincinnati, OH 45241-1516.

NDT-RAM is a trademark of The Modal Shop, Inc.

More from Electronic Components & Devices