CIMPLICITY Recovery System backs up PCs in minutes.
Press Release Summary: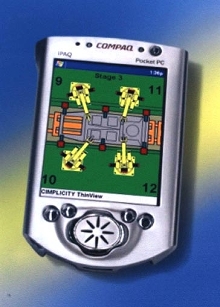 Disaster Recovery System and information backup tool enables plant personnel to restore information to PCs quickly, without involving IT group. After recovering PC, it enables re-application of incremental backup files that are part of CIMPLICITY Manager scheduler system, ensuring ongoing preservation of important information. It also provides support for FAT, FAT32, and NTFS file systems, and for popular network interface cards such as 3Com and Intel.
---
Original Press Release:

GE Fanuc Introduces New CIMPLICITY(R) Manager Disaster Recovery System to Protect Plant Data Software Provides Rapid File Restoration for Quick Recovery


CHARLOTTESVILLE, Va. - May 23, 2002 - GE Fanuc Automation announces the release of CIMPLICITY® Manager Disaster Recovery System, an easy-to-use disaster recovery and information backup tool that enables plant personnel to restore information to PCs in minutes, rather than the hours required for manual recovery.

"Because operators can restore files with the push of a button, this new Disaster Recovery System alleviates the need to bring the IT group into the plant information recovery process, saving time and increasing productivity for both departments," said Kevin Roach, vice president of the Global Solutions Business at GE Fanuc.

Disaster Recovery System is the newest option available for CIMPLICITY Manager software, a suite of productivity solutions for managing software and devices in the industrial environment. These asset and automation management tools help plants reduce downtime, re-engineering, and data and equipment loss when the unexpected happens.

After recovering a PC, the Disaster Recovery System enables quick and easy re-application of the incremental backup files that are part of the CIMPLICITY Manager scheduler system, ensuring ongoing preservation of important information. CIMPLICITY Manager Disaster Recovery System provides support for FAT, FAT32, and NTFS file systems, and for popular network interface cards such as 3Com and Intel.

About GE Fanuc Automation
GE Fanuc Automation North America, Inc., is a leading global supplier of automation solutions and is a joint venture between GE and FANUC, Ltd. of Japan. GE Fanuc products and services include CIMPLICITY® collaborative production management software, nano to high-end PLCs, a wide range of CNCs, motion control, operator interfaces, industrial computers, lasers, and a wide range of integration and customer support services. Headquartered in Charlottesville, Va., GE Fanuc is part of GE Industrial Systems. For more information, visit www.gefanuc.com < gefanuc.com>.

About GE Industrial Systems
GE Industrial Systems spans the globe as an industry leader in integrated industrial equipment, systems and services. The business brings to customers the latest technological products used to distribute, protect and control electrical power and equipment, and provides innovative product and service solutions for commercial, industrial, residential and utility applications. Headquartered in Plainville, Connecticut, USA, GE Industrial Systems is one of the major businesses of the General Electric Company.

For more information, visit, www.gefanuc.com or contact:
GE Fanuc Information Center
Phone: (800) 648-2001
P.O. Box 8106
Fax: 434-978-5205
Charlottesville, VA 22906
e-mail: gefanuc@gefanuc.com

CIMPLICITY is a registered trademark of GE Fanuc Automation North America, Inc. All other trademarks are the property of their respective owners.

GE Fanuc Automation
Alicia Bowers
Leader, Customer Marketing Communications
GE Fanuc Automation North America, Inc.
913 Circle Dr., Baltimore, MD 21227
410-242-0300, Dialcomm 272-8005
Fax: 434-978-5205
E-mail: alicia.bowers@gefanuc.com
Website: www.gefanuc.com


More from Optics & Photonics