Christie RealLaser Helps Cineworld Eastbourne Become Europe's First All-RGB Laser Cineplex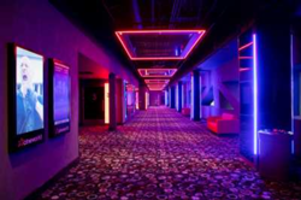 Leading exhibitor puts faith in Christie RGB technology
Wokingham, United Kingdom (PRWeb) September 10, 2019 -- Eastbourne Cineworld has become Europe's first all-RGB laser cineplex after opting for Christie RealLaser™ technology. The UK cinema's eight auditoriums have all been fitted with Christie's CP2315-RGB and CP2320-RGB offerings – bringing unprecedented levels of brightness, colour, and contrast to create unmatched cinematic performance. Christie RGB laser projection systems have also been installed at a brace of other UK Cineworld-owned locations, further demonstrating the exhibitor's commitment to RGB laser technology.
"We're delighted to offer our customers a fantastic visual cinematic experience with Christie RealLaser™ technology, which has become known for its excellent performance and reliability," says Kiril Enikov, Head of Technical for Cineworld. "We aim to provide the best place to watch a movie, and by investing in the latest high performance technologies, we feel we are continuing to deliver on this goal."
The CP2315-RGB and CP2320-RGB give exhibitors the latest innovations in RGB pure laser technology at a cost of ownership comparable to Xenon. Featuring CineLife™ electronics and RealLaser™ illumination, the models both excel in image quality, operational lifetime and overall cost. Their compact, all-in-one form factors do not require any external chillers or parts for a seamless installation into any booth.
The Cineworld Group has also placed its trust in Christie at The Picturehouse Central in the Piccadilly area of London, where its screen has been upgraded with a RealLaser™ projection system. In addition, the O2 Greenwich Superscreen – one of the largest screens in Europe – is powered by a Christie RGB laser projection system.
"It's thrilling to us that exhibitors are investing in RealLaser™ in cinemas to suite a variety of audiences, and it reaffirms our decision to focus on RGB laser technology," says Phil Lord, cinema sales manager, Christie. "We firmly believe that this technology will allow cinemas to draw audiences in by offering customers an authentic and immersive experience, both now and in the future, with amazing visual performance for years to come, and a low total cost of ownership."
With its RealLaser illumination technology, Christie's projectors comply with DCI standards and delivers more than 95 percent of Rec. 2020 without filtering or colour correction. The rich, deep, and intense colours along with high contrast create astounding visuals in 2K and 4K for audiences to enjoy, while delivering significant operational efficiencies to Cineworld.
Cineworld Group – the world's second largest cinema exhibitor – has signed an agreement to acquire more than 1,000 of Christie's next-generation, RGB pure laser cinema projectors featuring Christie RealLaser™ illumination technology.
About Cineworld
Cineworld aims to be the best place to watch a movie, offering an unparalleled cinema experience in the UK & Ireland, with 100 cinemas and 1,059 screens. Cineworld Group was founded in 1995 and is currently the second largest cinema chain in the world following the acquisition of US cinema group Regal Entertainment Group in February 2018. In 2014, the Cineworld Group combined with Cinema City International (CCI) and appointed CCI Founder and CEO Mooky Greidinger, as CEO of the Cineworld Group. In August 2016 Cineworld acquired 5 Empire Cinemas, including the iconic Empire Theatre in Leicester Square. This was followed by the acquisition of Empire Newcastle in 2017. Cineworld currently has 22 IMAX® auditoriums, and 13 Superscreens nationwide, as well as a special VIP experience currently available at 3 of their cinemas. Cineworld are the only operators in the UK to offer ScreenX – a 270-degree format that projects onto the front and side walls of the theatre, and 4DX – the immersive multi-sensory cinema experience, with 23 auditoriums across the UK and Ireland, including Cineworld Leicester Square.
About Christie®
Christie Digital Systems USA, Inc. is a global visual and audio technologies company and is a wholly-owned subsidiary of Ushio Inc., Japan, (JP:6925). Consistently setting the standards by being the first to market some of the world's most advanced projectors and complete system displays, Christie is recognized as one of the most innovative visual technology companies in the world. From retail displays to Hollywood, mission critical command centres to classrooms and training simulators, Christie display solutions and projectors capture the attention of audiences around the world with dynamic and stunning images. Visit http://www.christiedigital.com for more information.
Contact Information:
Bea Morais
Christie Digital
http://www.christiedigital.com
+ 49 221 99 512