Choose Andy's Roll Covers for Your American Made "Green and Sustainable" Roll Protection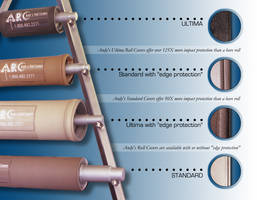 Choose Andy's Roll Covers for your American Made "green and sustainable" roll protection. Custom fit for all types of rolls including, laser engraved anilox, steel, embossing, guide, press, chill, calendar, spreader, coating, print, ceramic, silicone, flexo, ink, rubber, rotogravure, rotary dies, sleeves, and more.
Andy's Roll Covers are manufactured in Fort White, FL, U.S.A. by American workers. At least 90% of the raw materials used in our manufacturing process are American Made. Over half of these materials are repurposed seconds and surplus from the roofing, marine, automotive, and various other industries.
Most of our inventory colors include various shades of gray, brown, and black. On occasion we do have other colors available. Width restrictions apply for some of our colors.
Width of materials as well as colors vary. Color is chosen based on how the cut size of the roll covers fit on the material with the least amount of wastage. If there is a need for a specific color, let us know. We will do our best to accommodate your color requests from our current inventory.
For More Information:
Visit Website: AndysRollCovers.com
Call Toll Free: +1-800-492-2271
Email: Jessica@andysrollcovers.com
More from Fluid & Gas Flow Equipment