Chlorine Dioxide Analyzer supports raw water treatment.
Press Release Summary: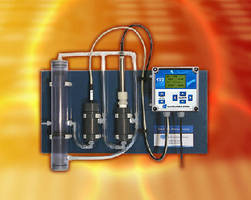 Featuring plumb-and-play design, Model CDA-22 ensures CIO2 levels are properly maintained as part of water source filtration system. Unit incorporates polarographic gold/silver PTFE membrane amperometric CIO2 sensor, automated flow control, and analyzer/controller mounted on PVC panel. Equipped with 2.5 x 1.75 in. backlit LCD, analyzer provides 4–20 mA output proportional to Chlorine Dioxide measured and 2 alarm relays - SPDT 230 Vac/5 A or 30 Vdc/5 A resistive max.
---
Original Press Release:

Plumb-and-Play Chlorine Dioxide Analyzer for Raw Water Treatment Reduces Maintenance Costs



Ideal for Freshwater Treatment Plant Filtration Systems



Irvine, CA—The low maintenance, economical CDA-22 Chlorine Dioxide Analyzer from Electro-Chemical Devices, Inc. (ECD) is ideal for supporting raw water treatment filtration systems. Featuring a panel mounted plumb-and-play design and automatic flow control, the user-friendly CDA-22 is a complete Chlorine Dioxide (ClO2) measurement system.



Treating raw water with ClO2 is an important part of the water purification process. ClO2 is used at very low concentrations (<1 ppm) in filtration systems to precipitate manganese, iron and other minerals in raw water and to break up tannins, which discolor the water often giving it a red hue. Inaccurate ClO2 monitoring may allow levels to exceed acceptable limits, leading to the generation of toxic chlorates.



Raw water sources vary in quality depending on their geographic location, the source type such as natural lake or reservoir, river or canal, etc.  Depending on many factors, the level of manganese, iron and tannins varies from source to source.  Removing the manganese, iron and tannins helps clarify the water.  The CDA-22 Chlorine Dioxide Analyzer ensures that ClO2 levels are properly maintained as part of the water source filtration system, preserving safety and water quality.



Easy to install and maintain, the CDA-22 Chlorine Dioxide Analyzer can run for up to one year between electrolyte/membrane changes. It incorporates a CIO2 sensor, automated flow control device and analyzer/controller mounted on a PVC panel. Installation is complete after connecting the sample and drain lines, power and outputs, and calibration is accomplished with DPD comparison.



The CDA-22 features a polarographic gold/silver PTFE membrane amperometric CIO2 sensor. While these types of sensors are flow sensitive, the CDA-22's output is virtually flow independent at values greater than 0.5 ft/sec.  The CDA-22's "constant head" flow control device maintains the sensor's optimum flow over a wide range of incoming sample flow rates, from 10-80 gal/hr.



The CDA-22's sensor operates at a wide temperature range of 0 to 100ºC (32 to 212ºF). Because temperature affects the CIO2 permeability of the PTFE membrane, increasing the temperature increases the output of the sensor about 4% per Cº. The chlorine flow cell includes a temperature sensor that allows the C22 analyzer to perform automatic temperature compensation of the measurement.



The CDA-22 features a 2.5-x1.75-inch backlit LCD display, with 4 lines for text and graphics. It requires no expensive reagents and eliminates pressure regulators and rotometers. The CDA-22 offers dual measurements, an XY graphical plot and an optional PID Control Output. The analyzer provides a 4-20 mA output proportional to the Chlorine Dioxide measured and two alarm relays SPDT 230 VAC/5A or 30 VDC/5A resistive max. It features the options to include additional 4-20 mA outputs for pH or temperature and up to 6 additional relays.



About Electro-Chemical Devices

Electro-Chemical Devices (ECD) is a manufacturer of liquid analytical process instrumentation. Founded in 1977, ECD has been in business for over 30 years and has built its industry leading reputation by its commitment to customers through this basic approach: Provide quality products, develop technical innovations and provide responsive, knowledgeable service.



Company Contact:  Joe Bradley

Company Address:  1681 Kettering, Irvine, CA 92614 USA

Web:  www.ecdi.com  

Email:  sales@ecdi.com

Tel: 800-729-1333

Tel: 949-336-6060

Fax:  949-336-6064

More from Software