Chlorine Dioxide Analyzer Offers Accurate Monitoring with No Reagents for Low Life-Cycle Costs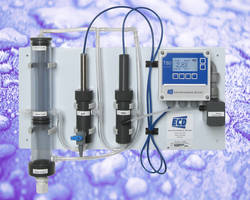 Water Disinfection, Effluent Treatment, Pulp Bleaching, Cooling or Rinse Water
Delivering high accuracy and reliability, the CD80 Chlorine Dioxide Analyzer from Electro-Chemical Devices (ECD) provides process engineers responsible for municipal and industrial water treatment systems with an easy-to-install, high performance and low maintenance solution to measuring Chlorine Dioxide (ClO2) for disinfection, effluent treatment, pulp bleaching and cooling or rinse water applications.
The CD80 ClO2 Analyzer is a complete panel mounted system that is ready to install right out of the box by technicians without special tools or training. Connect the sample and drain lines, connect the power and outputs, and it is ready to go in less than 30 minutes. The CD80 Analyzer's highly intelligent S80 amperometric ClO2 sensor is factory pre-calibrated by DPD comparison.
With its complete plug and play design, the CD80 Analyzer incorporates a flow control device, an amperometric ClO2 sensor, an optional pH sensor and the universal T80 Analyzer/Controller all mounted on a PVC panel. The intelligent S80 amperometric sensor recognizes the T80 Analyzer/Controller for automatic configuration set-up. Amperometric sensors are flow sensitive, which is managed by the onboard flow control device. The sensor cell also includes a temperature sensor to allow the T80 Analyzer/Controller to provide automatic temperature compensation for the highest accuracy and repeatability.
Operation and maintenance is simple too with the CD80 ClO2 Analyzer. It is available with a choice of two measurement ranges: either 0.05 to 20 ppm high range or a 0.01 to 5.00 ppm low range. An optional pH sensor is available with a range of 0 to 14 pH. Unlike other devices, the CD80 Analyzer with its S80 amperometric sensors requires no reagents. Periodic sensor cartridge replacements are all that's necessary. There is no monthly replacement of expensive reagents that also require special handling for environmentally correct disposal.
ClO2 is a highly effective disinfectant for water treatment against a number of pathogens and as a bleaching agent in pulp production and other industrial processes. According to the U.S. EPA, ClO2 can be applied at several points during drinking water treatment: to the raw water as a pre-oxidant, to the clarification tank, to post-clarification, or to the filtered water as primary disinfectant. Chloramine or chlorine can then be used for secondary disinfection following chlorine dioxide application.
During actual measurement, ClO2 diffuses through the S80 amperometric sensor's PTFE membrane and is reduced to chloride ions by the addition of electrons from the sensor's cathode. Silver from the sensor's anode is then oxidized to silver chloride. The electrons are released from the gold cathode and the electrons are then accepted on the silver anode, which results in a current flow that is proportional to the ClO2 level in the solution.
The CD80's universal T80 Analyzer is powered by 110-240 Vac or 24 Vdc and allows either ClO2 measurement range parameter to be graphically displayed with a user-definable line, bar or gauge style graph. The standard configuration features two 4-20 mA outputs with three alarm relays and a MODBUS RTU.
An optional auto clean configuration is available. It includes a solenoid actuated spray cleaner, which uses either 30 psi process water or air for sensor cleaning. An easily adjusted timer controls the period and duration of the cleaning cycle.
About Electro-Chemical Devices
Electro-Chemical Devices (ECD) is a manufacturer of liquid analytical process instrumentation. Founded in 1977, ECD has been in business for over 30 years and has built its industry leading reputation by its commitment to customers through this basic approach: Provide quality products, develop technical innovations and provide responsive, knowledgeable service.
Electro-Chemical Devices, Inc.
500 N. Kellogg Dr.
Anaheim, CA 92807
Phone: +1 714-695-0051
Contact:
Ryan Balgos
email: sales@ecdi.com
More from Electronic Components & Devices