Chlorine Analyzer has pre-wired, panel mount design.
Press Release Summary: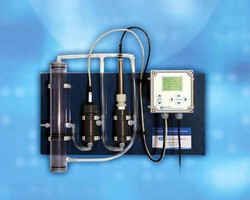 FCA-22 Analyzer System monitors free chlorine in drinking water, rinse water, cooling water, and other fresh water samples from 0.05-20.0 ppm Cl2, 5-9 pH, and at temperatures from 32- 122°F. Constant head flow control device maintains optimum water flow past sensor over 10-80 gph incoming flows. Incorporated pH sensor provides compensation for samples from 6.5-9 pH, and Cl2 sensor's polarographic, gold/silver PFTE membrane construction extends sensor life.
---
Original Press Release:

Free Chlorine Measurement as Simple as 1-2-3 with New FCA-22 Analyzer System



Ideal For Municipal Water Systems, Process Rinse Water for Food/Beverage Plants, Pulp/Paper Bleaching, Oxidation Control in Chemical Processing and Mining, Cooling Towers for Electric Power Plants or Oil/Gas Refineries

Yorba Linda, CA-July 16, 2008-The measurement and control of Free Chlorine has never been easier than with the new FCA-22 Analyzer System from Electro-Chemical Devices, Inc., which features a virtually plumb-and-play design. The panel mount design of this analyzer system comes factory pre-wired and with assembled flow tubing. ECD's advanced sensor and controller technologies allow installation and commissioning to be completed in just three easy steps utilizing simple tools.

Municipal water system and industrial process engineers will find the new advanced FCA-22 Analyzer precisely measures free residual chlorine while also offering a low cost-of-ownership. It features a long-lasting sensor that minimizes part replacement and technician labor expenses.

The FCA-22 Analyzer provides highly reliable on-line continuous free chlorine measurement in a complete systems package. It is designed to monitor free chlorine in drinking water, rinse water, cooling water and other fresh water samples from 0.05 to 20.0 ppm Cl2, 5 to 9 pH and at temperatures from 32 to 122°F (0 to 50°C).

The design criteria for ECD's new sophisticated chlorine sensor were high accuracy with a minimal maintenance requirement. Constant head flow control, automatic pH compensation and a rugged amperometric Cl2 sensor keep maintenance to a minimum with unsurpassed accuracy and performance.

The FCA-22's constant head flow control device (CFD) maintains the optimum water flow past the sensor over a wide range of incoming sample flow rates from 10 to 80 gallons per hour. The incorporation of a pH sensor in the FCA-22 provides accurate compensation for samples from 6.5 to 9 pH, which eliminates the need for an expensive pH sample conditioning system. The Cl2 sensor's polarographic, gold/silver PFTE membrane construction extends sensor life to reduce operational costs.

With many other free Chlorine sensor technologies, electrolyte replacement is a monthly or bimonthly task that requires the constant purchase of refill kits. A technician is required to refurbish and re-install the sensor and reconfirm the calibration, which results in unnecessary parts and labor expense that adds up over the complete life of the analyzer. The new FCA-22's advanced design extends sensor life to approximately one year.

The FCA-22's multi-bus controller design enables easy customization of various outputs and control functions. The standard FCA-22 has two SPDT relays and a 4 to 20 mA output for the free chlorine signal, with additional outputs available as an option.

About Electro-Chemical Devices

Electro-Chemical Devices (ECD) is a manufacturer of liquid analytical process instrumentation. Founded in 1977, ECD has been in business for over 30 years and has built its industry leading reputation by its commitment to customers through this basic approach: Provide quality products, develop technical innovations and provide responsive, knowledgeable service.

Brochure: ecdi.com/downloads/literature/fca-22_series/FCA-22_Brochure.PDF

More from Cleaning Products & Equipment