Chipsets power dual TV and PVR set-top boxes.
Press Release Summary: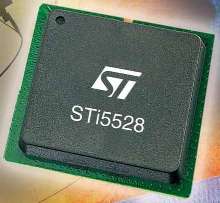 Built using .13 micron CMOS technology, STi5528 and STi4629 utilize two 32-bit RISC processors. They decode 2 separate video and audio streams, allowing users to connect 2 televisions to one set-top box. While decoding audio and video streams, chipsets may also record 2 channels to hard disk. For management of real-time functions, STi5528 employs ST20 core running at 166 MHz. For application software, STi5528 provides 200 MHz ST40 processor.
---
Original Press Release:

STMicroelectronics Chipset Powers Cost-Effective Dual TV and Dual PVR Set-Top Boxes


Geneva, January 7, 2004 - STMicroelectronics (NYSE: STM), the world's number one supplier of set-top box (STB)* chips and the industry's long-term leader in MPEG-2 decoders, has introduced the STi5528 and STi4629 chipset to its OMEGA family of STB decoders. Supporting full dual TV and dual PVR (Personal Video Recorder) functionality, the new solution extends the performance of the OMEGA family through the use of two 32-bit RISC processors, making it a highly cost-effective solution for advanced digital set-top boxes

The STi5528 and STi4629 chipset can decode two separate video and audio streams allowing consumers to connect two televisions to a single set top box. Furthermore, while decoding the two audio and video streams, the new chipset can also record two channels to a hard disk, so providing dual PVR functionality. Together, these two features allow manufacturers to build products that eliminate the need for a second STB to provide digital content to the second TV that is present in many homes.

For the management of real time functions such as audio and video decoding and demultiplexing, the STi5528 employs an ST20 core running at 166MHz. The ST20 is the most widely deployed processor in equipment such as STBs and DVD players that require MPEG-2 decoding and has been proven in tens of millions of STBs since the OMEGA family was introduced in 1997.

For application software, the STi5528 provides a 200MHz ST40 processor capable of running all the popular operating systems used in today's STBs including Linux and Windows CE. With integrated Floating Point and Memory Management Units, the ST40 delivers the high throughput (360 MIPS, 1.2Gflops) required to implement high performance STBs with digital video recording and web interactivity features. Moreover, the integrated 2D Graphics Display Compositor provides seven planes for the primary TV and four planes for a second TV, while the STi5528's ability to demultiplex and descramble seven transport streams from up to four front ends and its integrated ATA-6 compliant Hard Disk Drive interface ensure full dual TV PVR support. Audio options include Dolby(r), MP3 and SRS TruSurround(TM).

"With the introduction of the STi5528 and STi4629 chipset, we have extended the performance of the OMEGA family to a new level, combining the power of the ST40 with the proven performance of the ST20 to allow unprecedented flexibility at a competitive price/performance point," said Christos Lagomichos, vice president and general manager of ST's Set-Top Box Division.

Other key components of the STi5528 and STi4629 include enhanced security features that help protect service providers' revenue streams, a video architecture that provides a dual stream MPEG2@ML video decoder and PAL/NTSC/SECAM video encoders, and a USB interface for home networking. The STi5528 also features a rich variety of communications interfaces, including UARTs, I²C/SPI master/slave interfaces, four PWM channels, a multi-channel infrared transmitter/receiver and a MAFE (modem analog front-end) interface.

Both the STi5528 and the STi4629 may be used in satellite, cable or terrestrial set top boxes. Used on its own, the STi5528 can decode two video streams, enabling picture in picture functionality on a single TV.

Built using ST's .13 micron CMOS technology, the STi5528 and STi4629 are available for sampling now, with volume production scheduled for Q2 2004. The STi5528 is 25$ and the STi4629 is 5$ in quantities of 10K.

About STMicroelectronics

STMicroelectronics is a global leader in developing and delivering semiconductor solutions across the spectrum of microelectronics applications. An unrivalled combination of silicon and system expertise, manufacturing strength, Intellectual Property (IP) portfolio and strategic partners positions the Company at the forefront of System-on-Chip (SoC) technology and its products play a key role in enabling today's convergence markets. The Company's shares are traded on the New York Stock Exchange, on Euronext Paris and on the Milan Stock Exchange. In 2002, the Company's net revenues were $6.32 billion and net earnings were $429.4 million. Further information on ST can be found at www.st.com.

* InStat/MDR - MPEG Video IC Market: Larger than Ever - June 2003 (Report Number: IN030573MI)

o TruSurround is a trademark of SRS Labs, Inc.

o Dolby is a registered trademark of Dolby Laboratories.

Technical Appendix

The STi5528 and STi4629 combine all the features required for dual TV and dual PVR set top boxes into a single chip set:

o High performance 32 bit ST40 CPU running at 200MHz with 8 kilobytes of instruction cache and 16 kilobutes of data cache

o Enhanced ST20 CPU running at 166MHz, 8 kilobytes each of instruction cache, data cache and embedded SRAM

o Dual stream MPEG@ML video decoder, including trick mode such as smooth fast forward and rewind

o Dual source Gamma blitter engine and display compositor, supporting alpha blending

o PAL/NTSC/SECAM encoder

o Audio subsystem with embedded DSP supporting all popular audio formats

o A comprehensive range of embedded peripherals including five UARTS, two USB 1.1 host interfaces, four PWM channels, eight parallel IO banks, multi channel infra red transmitter/receiver, ATA-6 HDD interface, two smart card interfaces, and a modem analogue front end interface

More from Thermal & Heating Equipment