Chipset is capable of operating up to 2.7 GHz.
Press Release Summary: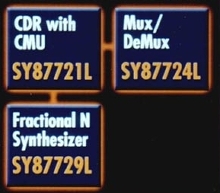 AnyRate SY87724L complete serial data multiplexer and demultiplexer provides muxing and demuxing to 4, 5, 8, or 10 bit wide buses. It can accept synchronous code group or octet boundary input, and uses input for parallel data alignment. Unit is controlled by frame logic, and features synchronous frame boundary indication, HSPC inputs and outputs, and 3.3V power supply. It is available in 80-pin LQFP-PQ2 package.
---
Original Press Release:

Micrel Introduces Industry's First AnyRate(TM) 28Mbps to 2.7Gbps Chipset for Protocol-Transparent Metro Area Network Solutions


DESCRIPTION

The SY87724L is a complete serial data multiplexer and
demultiplexer, capable of operating at up to 2.7GHz. The device provides for muxing and demuxing to 4, 5, 8, or 10 bit wide buses.

The SY87724L can accept a synchronous code group or octet boundary input, and uses this input for parallel data alignment.

The SY87724L is manufactured in Micrel's high performance ASSET2(TM) silicon bipolar process.

Micrel provides a complete protocol transparent solution with the AnyRate(TM) SY87721L CDR/CMU SY87729L, and the SY87724L integrated mux/demux.

FEATURES

* Protocol transparent mux/demux operation up to 2.7GHz
* Programmable to 4, 5, 8, or 10 bit parallel interfaces
* Differential clock and serial inputs/outputs
* Easily controlled by framer logic
* Synchronous frame boundary indication
* HSPC (High Speed PECL Compatible) inputs and outputs
* 3.3V power supply
* Available in 80-pin LQFP-PO2 package

APPLICATIONS

* OC-3, OC-12, OC-48, ATM, InfiniBand
* Gigabit Ethernet
* Fibre Channel, 2X Fibre Channel
* SMPTE-259 and 292
* Proprietary optical transport
* ITU G. 975 Solutions

More from Material Handling & Storage