Chipping Hammer includes tile chisel.
Press Release Summary: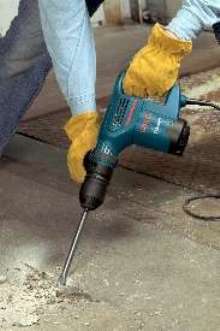 Weighing 7.9 lb, 3 kg SDS-plus® 11320VS is equipped with 6.5 A motor that produces up to 3,500 bpm at 3.2 lb-ft per impact. It offers tool-free bit changes with auto bit locking and dust protection. Vario-Lock(TM) system allows user to turn bit 360° to 1 of 12 positions for comfort. Hammer includes variable-speed trigger with recessed lock-on button for extended use. Cushioned soft grip absorbs shock and vibration, while soft start optimizes control.
---
Original Press Release:
New Bosch Lightweight 11320VS SDS-Plus® Chipping Hammer
Offers Highest Removal Rate Remodelers and Contractors Appreciate Hardest Hitting Tool In Category Mount Prospect, Ill., Winter 2004 -General contractors, remodelers demolition professionals and more will appreciate the new 11320VS 3kg SDS-plus® Chipping Hammer from Bosch Power Tools and Accessories, a division of the Robert Bosch Tool Corporation. Harnessing its storied hammer heritage, Bosch yet again introduced the hardest hitting SDS-plus chipping hammer boasting the fastest removal rate on the market. In a growing renovators' market, the launch of the 11320VS couldn't be better timed. While combination hammers have often served as a lightweight alternative to full-fledged chipping and demolition hammers, they aren't designed for constant chipping. But the 11320VS is, and with the appropriate accessory, it offers professionals the highest removal rate of any hammer its size. For applications including tile removal, left over concrete, plaster, mortar or adhesive removal, laying open concrete reinforcements, grooving for electrical, or cleaning joints, the 11320VS has no equivalent. The chipping hammer's powerful 6.5 Amp motor produces up to 3,500 BPM at 3.2 ft./lbs. per impact. At only 7.9-pounds, this lightweight tool offers the best power to weight ratio in its class, truly the biggest punch. By incorporating the next generation design of the industry standard SDS-plus Bit System, users are guaranteed tool-free bit changes with auto bit locking, dust protection and maximum impact energy transfer. Compared to other systems, the 11320VS' bit holder system's life is considerably longer with substantially more efficient internal chisel shank guidance and better shank centering that would be normally worn down by friction in past designs. The 11320VS' specially engineered impact mechanism also makes the chipping and chiseling process more efficient by offering a smooth progression between no-load and hammering modes providing superior tool control for easier positioning and precision chiseling. This chipping hammer also features the Bosch Vario-Lock(TM) system so users can turn the bit 360-degrees to one of 12 positions for comfort and ease of use. The variable speed trigger provides excellent control, and a recessed lock-on button located at the trigger switch allows the user to lock the tool on for extended use. Cushioned soft grip provides shock and vibration absorption while soft start offers optimal control. And service modules make brush or cord changes exceptionally easy. Every 11320VS comes with a brand new Bosch HS1465 Tile Chisel. Specially designed to easily penetrate underneath tiles, it offers 140-percent faster removal rate than standard chisels and reduces breakage for quicker clean-up. Overall, with the right chisel accessory, the entire system is the most efficient on the market. It also comes with the new Viper flat chisel, which out performs standard flat, chisels in removal rate. Users can expect to find the following accompanying their 11320VS: o HS1465 Special Tile Chisel o HS1470 Viper Flat Chisel o 360-degree Auxiliary Handle o Hard Plastic Case o Cleaning Rag o Tube of Bit Grease Additional Bosch SDS-plus chisels include: o HS1415 10-inch Pointed Chisel o HS1420 3/4-inch x 10-inch Chisel o HS1425 1-1/2-inch x 10-inch Chisel o HS1430 1/4-inch Wood Chisel o HS1435 1/2-inch Wood Chisel o HS1440 3/4-inch Wood Chisel o HS1445 1-inch Wood Chisel o HS1450 1-1/4-inch Wood Chisel o HS1460 Set of 4 Wood Chisels (1/4, 1/2, 3/4, 1 -inch) o HS1465 Tile Chisel o HS1470 Viper Flat Chisel o HS1475 Gouging Chisel o HS1480 Carbide Pointing Chisel o HS1485 5-1/2-inch x 1-1/2-inch Stubby Scaling Chisel o HS1490 5-1/2-inch Stubby Point Chisel o HS1495 5-1/2-inch x 3/4-inch Stubby Flat Chisel About Bosch Power Tools and Accessories: Bosch Power Tools and Accessories is one of the divisions within the $1 billion, 4,000 employee strong Robert Bosch Tool Corporation, which is the North American branch of the largest power tool and accessory manufacturer in the world, Robert Bosch GmbH. Bosch provides a complete line of corded and cordless power tools and accessories engineered to survive any jobsite and allow professionals to take control of their work. For more information, call toll free 877-BOSCH-99 (877-267-2499) or visit www.boschtools.com. About Bosch North America: In addition to power tools and accessories, in North America the Bosch Group manufactures and markets automotive original equipment and aftermarket products, industrial automation and mobile products, security technology, packaging equipment and household appliances. Overall, Bosch employs more than 23,300 associates in more than 80 facilities throughout North America and reported sales of $6.6 billion in 2003. For more information, visit www.boschusa.com.
More from Fluid & Gas Flow Equipment