Chip Size BGA Adapter suits automotive applications.
Press Release Summary: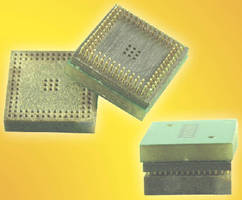 Constructed with Torlon 5530 material, SFS-BGA104A-52 allows 0.5 mm pitch, 8 x 8 mm body, and 15 x 15 array BGA devices to be socketed and operate without compromising performance. Giga-snaP(TM) BGA SMT adapter pair consists of SFS-BGA104A-52 female sockets with machined pins and sleeve spring that matches male pin LSS-BGA104A-51. Required force per pin of 40 g facilitates plugging/removal, and physical connection length of 2.8 mm promotes high-frequency signal transmission.
---
Original Press Release:

Chip Size 0.5mm Pitch BGA Giga-snaP(TM) Adapter



BURNSVILLE, MN - September, 2009 - Ironwood Electronics' new high performance socket - SFS-BGA104A-52 allows 0.5mm pitch, 8x8mm body, and 15X15 array BGA devices to be socketed and operate without compromising performance in demanding automotive applications. The Giga-snaP(TM) BGA SMT adapter pair consists of SFS-BGA104A-52, patent pending female sockets with machined pins and sleeve spring into an assembly that matches the male pin LSS-BGA104A-51. The RoHS compliant SFS-BGA104A-52 is soldered to a PCB using standard RoHS soldering methods. Both adapters are constructed with high temperature Torlon 5530 material assuring match with target PCB's and preventing failures that occur with CTE mismatch. LSS-BGA104A-51 BGA adapter, to which the user attaches a target 104 ball BGA chip, is plugged into the female socket on the board, thereby chip is interconnected and the system is ready to go. The Giga-snaP BGA Surface Mount Feet Adapters require low force than the conventional adapters at 40g per pin for easy plugging and removing operation. The electrical path of the Giga-snaP(TM) BGA SMT adapters is a high priority performance issue with the physical length from the top connection point on the male adapter to the bottom tip on the female socket is 2.8 mm. This is the shortest connection length by far for machined pin sockets, therefore providing better transmission of high frequency signals. These adapters passed environmental tests (MIL-STD) and qualified for automotive applications. The 0.5mm Giga-snaP(TM) BGA SMT Adapter line is available in many different pin counts and customs can be delivered in days.

Pricing for SFS-BGA104A-52 is $282 and LSS-BGA104A-51 is $139 at qty 1; with reduced pricing available depending on quantity required.

For further information and a high resolution photo see: http://www.ironwoodelectronics.com/press/PressReleasePhotos/0_5mm_gigasnap_PR_highres.jpg

Ila Pal
Vice President of Marketing
Ironwood Electronics
Phone: 800-404-0204
Email: ila@ironwoodelectronics.com
Skype: ila.pal
Twitter: http://twitter.com/ironwood_elect
Linkedin: http://www.linkedin.com/pub/ila-pal/10/179/691

More from Communication Systems & Equipment