Chip Shooter and Mounter include flying-vision centering.
Press Release Summary: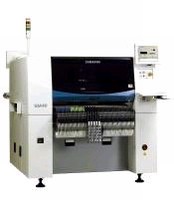 Designed to handle components from 01005-14 mm², SM411 Dynamic Chip Shooter places at rate of 42,000 cph based on IPC 9850 standard with accuracy to ±50 µ at 3 sigma. Dual gantry system includes dual-lane PCB transport with 3 on-demand production configurations. Featuring single gantry, SM421 Advanced Flexible Mounter extends component range from 01005-55 mm², and is capable of handling up to 72 mm SMT connectors. System reaches placement speeds up to 21,000 cph with ±30 µ accuracy at 3 sigma.
---
Original Press Release:

Dynatech Technology Expands With Samsung SM400 Series Platform



New High-Precision, High-Speed Systems Raise Bar for Scalability, Space Efficiency
See the SM400 Series at APEX Stand 859

Horsham, PA February 22, 2008 - Dynatech Technology, the exclusive North American distributor of SMT solutions from Samsung, brings the latest member of the SM400 Series platforms to the North American market.

The SM400 Series is designed on the SMART platform that provides a Simple and easy operating environment with a Modular design to provide high Availability with Reliable production and optimized Throughput. Integrated software features a common operating interface across the complete SM400 Series of placement systems. This concept provides a rigid, stable base platform that is scalable and modular with a space-efficient design to maximize productivity on the manufacturing floor.

Each member of the SM400 Series includes flying-vision centering with individual cameras for each spindle. This maximizes placement speeds by identifying component centers during travel from the feeder to the placement location. Samsung's unique head is designed for simultaneous component pick-up from the SM Feeders.

Samsung's SM411 Dynamic Chip Shooter places at a rate of 42,000 cph based on the IPC 9850 standard handling components from 01005 through 14mm2 with placements accurate to ±50µ at 3 sigma (Cpk=1.0). The dual gantry system includes a dual-lane PCB transport with three on-demand production configurations. In its single-lane configuration, the SM411 builds a board with both gantries. In the joined-mode configuration, the system transports a board into one of the two transport lanes and populates it with both gantries while a second board is moved to the work position in the second conveyor. In the third configuration, a board is moved into the appropriate position on the first conveyor, where the placement routine starts using one of the two gantries. A second board is moved into position on the second conveyor, where the second gantry begins to populate the second board.

Increased speeds are also part of the SM421 Advanced Flexible Mounter. Its single gantry adds a stage-vision system to extend the component range from 01005 to 55mm square, and is capable of handling up to 72mm SMT connectors. The SM421 reaches placement speeds up to 21,000 CPH (IPC9850) with accuracy of ±30µ at 3 sigma (Cpk=1.0).

Like its chip shooter cousin, the SM421 includes Samsung's flying vision with a camera system dedicated to each of the six spindles on the gantry, maximizing placement speeds by identifying component centers during transit from the feeder to the placement location.

An optional external Side Tray Handler extends the capability of the SM421, supporting non-stop operation of up to 20 JEDEC trays/part numbers with rejected parts put safely back into the tray for improved defect management. Removable cartridges provide rapid changeover. Empty trays are moved to the top position, making replenishment quick and easy. Adding the Side Tray Handler allows full access to all of the feeder slots in the SM421 including front and backside docking carts, and full process width of PCB's. The small footprint includes a built-in buffer conveyor and an embedded Windows XP user interface with an easy-to-read LCD screen for accurate and efficient setup. The SM software maintains full control of the side tray handler during the placement process.

The SM411 and SM421 accept standard or Intelligent (IT) SM Feeders, nozzles and other accessories introduced with the SM300 series mounters, increasing the value of end-users' existing investment in Samsung products and production staff training.

The optional Intelligent (IT) Feeder System adds complete lot tracking and inventory management capabilities to the SM Series platforms. Critical parts management and tracking from the stock room to loading and placing feeders on the table are under the control of a unified management system to avoid costly errors. IT Feeders are assigned a unique identity based on which components are loaded onto the feeder. The IT system then ensures that the correct part is loaded in the assigned feeder slot in the active inventory on the SM system.

All SM Series mounters include front and backside operator consoles, easy-access maintenance and non-stop feeder capability. Compatibility of the SM400 Series extends beyond the mechanical configurations by sharing a common software interface, an extensive component database with over 1100 generic package types and consistent operation with other SM Series systems.

Combining multiple SM411 systems with the SM421 provides an efficient scalable in-line solution to changing production requirements. Lines can be configured for low volume/low mix, low volume/high mix, medium volume/medium mix and high volume/low mix production needs based on product mix for various production needs.

The SM Series includes the SMP300 and SMP400 Screen Printers, SM310, SM320, SM321, SM411 and SM421 placement systems. When combined with the SRF reflow soldering system Samsung/Dynatech offers complete, turn-key solutions to SMT production from high mix to high volume needs

Dynatech Technology, based in Horsham, PA, was formed by Dynatech International as the exclusive North American distributor for the sales and service of Samsung Techwin SMT equipment. Dynatech Technology provides 24/7 service with a guaranteed 30-minute call-back time, continuing a 25-year tradition begun by Dynatech International, its parent company, in military and commercial aerospace servicing. Dynatech Technology, Inc., 103 Rock Road, Horsham, PA 19044 Tel: 215-675-3566 Fax. 215-675-4259 dynatechsmt.com.

Dynatech International, Edgewood, NY, in business for more than 25-years, is an established ISO-9001 distributor of Samsung Aerospace spare parts and logistics. Dynatech International's subsidiary companies are Dynatech Turbine Services, Dynatech Engineering and Dynatech Technology.

Contacts:
Company
Barbara Rodgers
Dynatech International
Tel: 631-243-1700
barbara.rodgers@dynatechintl.com

More from Electrical Equipment & Systems