Chip-Scale Gyroscope fosters smart electronics integration.
Press Release Summary: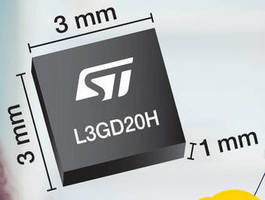 Supplied in LGA-16 leadless SMT package measuring 3 x 3 x 1 mm, L3GD20H enables smaller sensing mechanisms in smart consumer electronics and industrial tools. This 3-axis gyroscope, used for motion-sensing applications, offers selectable full-scale ranges of 245, 500, and 2,000 dps. Along with I²C/SPI 2-line digital interface, features include power-down and sleep modes, embedded temperature sensor and FIFO, and integrated low- and high-pass filters with user-selectable bandwidth.
---
Original Press Release:

STMicroelectronics Extends MEMS Sensor Portfolio with Tiny 3-Axis Gyroscope Delivering Power, Speed and Design-in Advantages



Ultra-compact sensor enhances user experiences, leveraging ST MEMS heritage for current and future applications

Geneva - STMicroelectronics (NYSE: STM), a global semiconductor leader serving customers across the spectrum of electronics applications and the world's top MEMS (Micro-Electro-Mechanical Systems) manufacturer[1], has unveiled its smallest, lowest-power and highest-performance chip-scale gyroscope for advanced motion-sensing applications.

ST's L3GD20H gyroscope measures only 3 x 3mm and 1mm high - the smallest available - while the Company's proven MEMS manufacturing processes deliver outstanding quality, at the industry's highest production volumes. Occupying little over half the volume of its predecessor, yet offering better resolution, higher accuracy, superior stability and faster response time, the new device enables smaller sensing mechanisms in smart consumer electronics, including mobile phones and tablets, game consoles, digital cameras and industrial tools.

The ultra-small dimensions of this gyroscope also allow experimental projects such as wearable electronics to move closer towards true practicality. One such application is the prototype smart suit that ST used to demonstrate inertial body-motion reconstruction early in 2012, which can help enhance various applications such as augmented reality, sports training aids, or medical therapy.

"Miniaturized, low-power sensors such as our new L3GD20H enable smart electronics to be used in ever-smaller and slimmer handheld devices, as well as in items such as clothes or sports equipment, creating opportunities for exciting new products and services," said Roberto De Nuccio, Business Development Manager for ST's Motion MEMS Division. "Both high-volume applications in smart phones and tablets and emerging applications such as prosthetics, medical instruments, goods tracking and power tools will benefit from this latest generation of tiny MEMS devices."

Further information and features:
ST's MEMS gyroscopes, as well as the accelerometers, magnetometers and iNEMO(TM) inertial modules, enable innovative products and apps such as context-sensitive user interfaces, augmented reality, kinetic gaming, and industrial solutions including container tracking or emergency-stop mechanisms. In February 2012, IHS iSuppli predicted the total market for MEMS devices enabling such applications will more than double to $4.25 billion by 2015. In particular, 3-axis gyroscopes - such as the L3GD20H - will represent over $900 million of this market.

In addition to enabling advanced product miniaturization, ST's L3GD20H also helps conserve battery power by drawing 25% lower current than the previous generation of devices. The L3GD20H is also ready for action in only one-fifth of the time after turn on, enabling the end-user application to deliver a better overall experience. Finally, the gyroscope's output has 60% lower noise, which can help to simplify hardware and software design and speed up communication with the host system leading to faster application performance.

The new gyroscope retains a similar register structure as its predecessor (L3GD20), making it easy for designers to reuse existing software code and thus reduce time to market and lower development costs. Designers will also benefit from ST's Sensor Fusion development environment.

Major features:
· 3 x 3 x 1mm package equaling smallest in industry today; 25% lower current draw, 60% lower output noise, 80% faster turn on
· Three selectable full-scale ranges (245/500/2000 dps)
· I2C/SPI two-line digital interface
· Integrated low- and high-pass filters with user-selectable bandwidth
· Power-down and sleep modes
· Embedded temperature sensor and FIFO

The L3GD20H, housed in the LGA-16 leadless surface-mount package, is scheduled to begin sampling in Q3 2012 and to enter mass production in Q4 2012 priced at $2.60 in quantities of 1,000 units. Alternative pricing options for higher quantities are available on request.

About STMicroelectronics
ST is a global leader in the semiconductor market serving customers across the spectrum of sense and power technologies and multimedia convergence applications. From energy management and savings to trust and data security, from healthcare and wellness to smart consumer devices, in the home, car and office, at work and at play, ST is found everywhere microelectronics make a positive and innovative contribution to people's life. By getting more from technology to get more from life, ST stands for life.augmented.

In 2011, the Company's net revenues were $9.73 billion. Further information on ST can be found at www.st.com.

1 IHS iSuppli: MEMS Competitive Analysis 2012

For Press Information Contact:
STMicroelectronics
Michael Markowitz
Director Technical Media Relations
+1 781 591 0354
michael.markowitz@st.com

More from Services