Chip Resistor performs at frequencies up to 40 GHz.
Press Release Summary: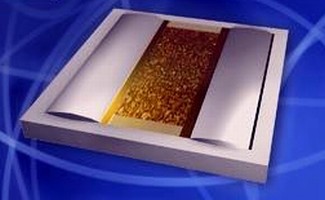 Series MWR flip-chip mounted microwave chip resistor features 50 and 75 ohm resistance with tolerances down to ±1%. Manufactured from TaNFilm® self passivating thin film resistive element, it features operating temperature range of -55 to +100°C, power rating of 250 mW at 40°C and 125 mW at 70°C, with max operating voltage of 50 V. Corrosion-resistant resistor is designed for transmission line termination, and is suitable for use in harsh environments.
---
Original Press Release:

IRC's Microwave Chip Resistors Perform at Frequencies up to 40GHz



'Flip-chip' mounted RF termination resistors suitable for discrete or hybrid circuits...

CORPUS CHRISTI, TX (March 28, 2006) - Providing design engineers with a rugged resistive device specifically designed for transmission line termination at high frequencies, TT electronics IRC Advanced Film Division has developed a microwave/RF termination resistor rated for operation at frequencies up to 40GHz. Designated the MWR Series, the microwave chip resistor is constructed using IRC's proprietary TaNFilm® self passivating thin film resistive element, providing an ultra stable corrosion-resistant device suitable for use in harsh environments.

"Because the MWR Series chip resistors are specifically characterized for high frequency performance, they provide superior line termination performance in comparison to generic 'off-the-shelf' chip resistors," said Jerry Seams, applications engineering manager for IRC's Advanced Film Division.

The planar ceramic flip chip package design keeps the resistive element in the same plane as the circuit, Seams continued, keeping parasitic inductance and capacitance to a minimum. Available with solderable or bondable terminations, the chips are suitable for solder attachment as discrete chips, as well as in chip-and-wire or ribbon-attached hybrid circuits. The devices also feature optional back side gold metallization.

The MWR Series microwave chip resistors are ideal for high frequency circuits in military/aerospace, computer, medical and networking equipment. Typical applications include wired and wireless telecommunications, radar systems, and high frequency hybrid circuits.

The MWR Series microwave chip resistors feature resistive resistance values of 50 ohm and 75 ohm with tolerances down to ±1%. The chips have absolute TCRs to ±25ppm/°C, noise characteristics of <-20dB, and stray distributed capacitance of less than 0.05pF. Power rating for the chip resistors is 250mW at 40°C and 125mW at 70°C, with a maximum operating voltage of 50V. Operating temperature range is from -55°C to +100°C.

IRC will also produce devices outside these specifications to meet customer requirements. In addition, IRC has the capability to test MWR Series resistors to the stringent specifications of MIL-PRF-55342.

For datasheets or more information on IRC's MWR Series microwave chip resistors, please access the Web site at www.irctt.com/microwave. For additional information, please contact the TT electronics IRC Advanced Film Division Sales & Marketing Department at 361-992-7900; via mail at 4222 S. Staples St., Corpus Christi, TX 78411; or e-mail at afdsales@irctt.com.

IRC Inc. is a leading international manufacturer of advanced film, metal glaze and wirewound resistive products with facilities in Corpus Christi, Texas, Boone, N.C., Smithfield, N.C., and Barbados. IRC is part of TT electronics plc, a global electronics company manufacturing a broad range of advanced electronic components, assemblies and sensor modules for the automotive, telecommunications, computer and aerospace markets.

Keywords: TT electronics, IRC, MWR Series, TaNFilm, Microwave Chip Resistor

URL: http://www.irctt.com/microwave

For more information, contact:
Jerry Seams
Applications Engineering Manager
IRC, Inc.
361-985-3132
jerry.seams@irctt.com

More from Machinery & Machining Tools