Chip-On-Glass LCD can be read in sunlight.
Press Release Summary: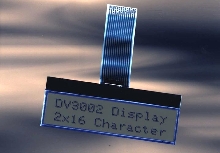 DV3002 character display provides 2 lines with 16 characters, draws only 50 micro A at 5V, and is suitable for battery powered process control equipment, mobile data-collection devices, and handheld instrumentation. It withstands temperatures from -20 to +70 deg C, humidity of 90%RH, and has MTBF in excess of 100,000 hours. Measuring 69.5 x 25.05 x 2.85 mm thick, it has effective display area of 61 x 15.1 mm, offering large viewing area in small package size.
---
Original Press Release:

Low Power, Sunlight Readable, Chip-On-Glass Character Display


Santa Fe Springs, March 8, 2002: Densitron, the electronics and information systems specialist, has cut through price barriers by offering a rugged, 2 lines 16-characters, sunlight readable, Chip-On-Glass LCD (DV3002) at a cost as little as $5.28 each at 5,000 pieces.

Capable of surviving extreme temperatures from -20°C to +70°C, and high humidity (90%RH), it has an MTBF in excess of 100,000 hours and draws only 50 micro A for typical "normal" mode at 5V.

The DV3002 is ideal for battery powered applications where weight and harsh environment are likely to be encountered such as on process control equipment, mobile data-collection devices, and handheld instrumentation.

Measuring only 69.5mm(w) x 25.05mm(h) and just 2.85mm in thickness, the DV3002 has an effective display area of 61mm x 15.1mm, offering designers a large viewing area in a small overall package size. Its STN fluid in positive mode also offers a wide viewing angle and excellent readability under sunlight.

The built-in LCD controller incorporates a character generator offering 225 different 5x7 alphanumeric patterns and symbols to minimize programming efforts. Other display control functions include: Blink character, display and cursor ON/OFF, display and cursor shift, and display clear. The DV3002's high-speed 8-bit interface allows direct connection to many microprocessors. Alternatively, a 4-bit parallel interface may be used. No external clock is required for RAM read/write operations. Standard interface for the DV3002 is via a 14-way 1.0mm pitch flex cable (optional pin or elastomeric connections are available to solve difficult PCB mounting problems).

Delivery is stock to 8 weeks ARO depending on availability. All stock is subject to prior sale.

For more information contact: Densitron at (562) 941-5000, sales@densitron.com or visit our website at densitron.com/display.

Densitron Corporation is a leader in flat-panel display technologies and embedded PC products. Densitron designs, manufactures and sells industrial computers, flat-panel industrial monitors, graphic and alphanumeric LCDs, touchscreen display assemblies, and electromechanical actuators. Densitron specializes in engineering the most cost-effective solution to meet its customers needs and has the ability to design and manufacture turnkey solutions for the handheld, medical, instrumentation, and industrial OEM markets in America, Asia and Europe. Visit us at www.densitron.com for more information on our products and services. Densitron Corporation is a wholly owned subsidiary of Densitron Technologies PLC (LSE: DSN), which is a publicly held company, traded on the London Stock Exchange as part of the "techMARK" index.


More from Software