Chip Inductors feature EIA 0201 case size.
Press Release Summary: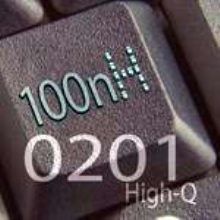 Measuring 0.6 x 0.3 x 0.3 mm, multilayer Series HK is 100 nH rated, while Series HKQ, with 30% higher Q factor, includes models from 1-10 nH. All provide non-polarized electrodes that allow mounting in any orientation on circuit board. Inductors facilitate high-density PCB mounting by minimizing size of noise-suppression components in cell phone RF circuits, power amplifiers, voltage-controlled oscillators, and other choke-coil applications.
---
Original Press Release:

Taiyo Yuden Introduces the Industry's First 100 nH Rated Multilayer Chip Inductors in 0201 Case Size


New chip inductors, which also include 30% higher Q factor models, speed adoption of smaller, 0201-size components in high-frequency choke-coil applications

SCHAUMBURG, IL-August 1, 2005-TAIYO YUDEN (U.S.A.), INC., announces two significant new achievements in its expanding series of high-frequency multilayer chip inductors providing high-inductance (HK series) and high-Q factor (HKQ series) performance characteristics. The first TAIYO YUDEN achievement (HK series) is development of the industry's first 100 nH-rated chip inductor in EIA 0201 case size. The second achievement (HKQ series) is the introduction of a new line of 0201 high-Q chip inductors (1-10 nH) with 30% higher Q values than previous series devices, relative to case size. (See below for brief explanation of Q factor.) These developments will facilitate higher-density PCB mounting and smaller end devices by greatly reducing the size of critical noise-suppression components in cell phone RF circuits, power amplifiers, voltage-controlled oscillators and other choke-coil applications. Further, the majority of existing 0402 and larger devices used in choke-coil applications can now be down-sized to 0201 case size components--providing minimum circuit board real estate savings of 64% area and 78% volume per component. All HK and HKQ series devices improve end-device manufacturability by providing non-polarized electrodes that allow mounting in any orientation on the circuit board.

TAIYO YUDEN developed the industry's first 0201 case size (0.6 x 0.3 x 0.3 mm) 100 nH-rated chip inductor in response to the continuing industry demand for smaller, more feature-rich portable designs. Now available in production volume, the 100 nH device provides almost 79% higher inductance than the industry's previous top-rated 0201 chip--56 nH--achieved by the company early last year. TAIYO YUDEN's high-inductance (HK) chip inductor series currently provides a wide inductance range of 1 nH (250mA) to 100 nH (40 mA). The latest additions to the high-inductance (HK) series include:

Also available in mass quantity, the company's high-Q (HKQ) series chip inductors in 0201 case size provide a 30% higher Q value--relative to case size--than comparably rated devices in 0402 (1.0 x 0.5 x 0.5 mm), the current industry norm. Key specifications in TAIYO YUDEN's HKQ series--with models from 1 nH (250 mA) to 10 nH (150 mA)--include:

A major step forward in meeting the industry's continuing miniaturization trend in cellular phones, digital cameras, PDAs and other ultra-portable electronic devices, TAIYO YUDEN's industry-leading material science expertise and high-precision multi-layering techniques were key to the success of these efforts. Despite the inability of other suppliers to produce high-inductance values beyond 47 nH in 0201 size components, TAIYO YUDEN was successful in developing a finer-grade dielectric powder and thinning each individual inductive layer.

These developments, combined with recent advances in internal conductor patterning technology (super-fine printing), led to the formation of thinner, higher-precision conductors that enabled fabrication of more-compact layered structures. Further technical gains, now under development at TAIYO YUDEN, will further enhance the company's technology leadership and pave the way for the next generation of functional upgrades and size reduction of cell phones and other portable devices. Production capacity for both HK and HKQ series components is now at 100M units per month. For further information, call TAIYO YUDEN (U.S.A.), INC. or visit the company web site at www.t-yuden.com

Sample Price: $0.10 each in OEM quantity
Availability: Now in volume production quantities
Delivery ARO: 6 weeks (HK) to 8 weeks (HKQ)

About Q Factor:
Q-Value, or Quality-Factor, describes the degree of efficiency with which an inductor stores energy as a magnetic field. The higher the Q-Value the more effectively it operates as a filter. Q-Value is typically expressed as a numerical value in conjunction with a specific frequency. The excellent Quality factor of the HKQ Series is among the highest in the industry, with typical Q values ranging from 25 at 100MHz to 90 at 1GHz.

About TAIYO YUDEN:
Now in its 55th year, Tokyo-based TAIYO YUDEN CO., LTD. is a worldwide manufacturer of surface-mount and leaded passive components, Bluetooth modules, power electronics modules, power supplies and recordable digital media. With approximately 50% of the worldwide market in high-frequency multilayer chip inductors used in cell phones, the company reports annual sales of nearly US$1.6B. Worldwide, TAIYO YUDEN employs more than ten thousand people. The company's North American affiliate, TAIYO YUDEN (U.S.A.), INC., operates sales and engineering offices in Chicago, IL, Raleigh, NC, Irving, TX, and in California at San Jose and San Diego. For further information, visit the company's website at: www.t-yuden.com.

For Further Information
Jun Nakajima, Marketing Manager
TAIYO YUDEN (U.S.A.), INC.
1930 Thoreau Drive, Suite 190
Schaumburg, IL 60173
Voice: 847-925-0888 Fax: 847-925-0899
E-mail: jun@t-yuden.com
URL: www.t-yuden.com

More from Software