Chip Capacitors offer ESR values down to 0.035 ohms.
Press Release Summary: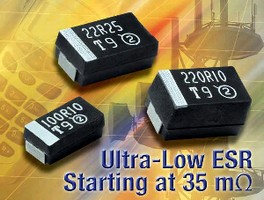 Providing maximum ripple current up to 2.07 A, Series TR3 molded Tantalum Chip Capacitors are available in 5 molded case sizes with 100% tin terminations. Units feature capacitance values from 0.47-680 F with tolerances of 10 and 20%. Voltage ratings range from 4-50 WVdc and operating temperature is -55 to +85°C, or +125°C with voltage derating. Applications include telecom, automotive, computer, industrial, commercial, medical, and avionics end systems.
---
Original Press Release:


Vishay TR3 Molded Tantalum Chip Capacitors Offer ESR Values Down to 0.035 Ohms and Ripple-Current Handling Up to 2.07 A




New Tantamount Capacitors Are Suited for Broad Range of End Systems

MALVERN, PENNSYLVANIA - November 11, 2005 - Vishay Intertechnology, Inc. (NYSE: VSH) today announced the release of new TR3 series molded tantalum chip capacitors that provide high efficiency with ESR values down to 0.035 ohms and maximum ripple current values up to 2.07 A (100 kHz, 470 F).

Low ESR values allow for more efficient filtering in dc-to-dc conversion applications, while the devices ability to handle high currents is key in microprocessor bulk energy storage applications. The new Vishay Sprague TR3 capacitors are intended for applications in telecom, automotive, computer, industrial, commercial, medical, and avionics end systems.

In addition to providing very low ESR values and a high ripple current handling capability, the new tantalum capacitors feature a proven solid tantalum construction that ensures long-term reliability. Outstanding stability over time and temperature further enhances the TR3 devices performance and reliability.

TR3 devices are available in five molded case sizes A, B, C, D, and E with 100 percent tin terminations (RoHS-compliant), or 90/10 Sn/Pb terminations upon request. Devices in the B, C, D, and E case sizes are 100 percent surge-current-tested. All TR3 capacitors meet EIA 535BAAE and IEC QC300801/US0001 specifications. The capacitors compatibility with high-volume pick-and-place equipment simplifies assembly.

Capacitance values for TR3 tantalum chip capacitors range from 0.47 F to 680 F with standard capacitance tolerances of 10% and 20%. Voltage ratings range from 4 WVDC to 50 WVDC. The operating temperature range for the new devices is -55°C to +85°C, or +125°C with voltage derating.

Samples and production quantities of the new TR3 molded tantalum chip capacitors are available now, with lead times of four to six weeks for larger orders. Pricing for U.S. delivery in 10,000-piece quantities ranges from $0.08 to $1.00, depending on case size.

Vishay Intertechnology, Inc., a Fortune 1,000 Company listed on the NYSE (VSH), is one of the world's largest manufacturers of discrete semiconductors (diodes, rectifiers, transistors, and optoelectronics) and selected ICs, and passive electronic components (resistors, capacitors, inductors, and transducers). Vishay's components can be found in products manufactured in a very broad range of industries worldwide. Vishay is headquartered in Malvern, Pennsylvania, and has operations in 17 countries employing over 25,000 people. Vishay can be found on the Internet at www.vishay.com.

Tantamount is a registered trademark of Vishay Intertechnology, Inc.

READER CONTACT INFORMATION

THE AMERICAS
Matthew Small
Vishay Intertechnology, Inc.
1754 Main Street
P.O. Box 231
Sanford, ME 04073
USA
Tel: +1 (207) 490-7240
Fax: +1 (207) 490-7213
matthew.small@vishay.com

EUROPE
Thomas Poessnecker
Vishay Electronic GmbH
Geheimrat-Rosenthal-Strasse 100
95100 Selb
Germany
Tel: +49-9287-71-2595
Fax: +49-9287-71-2274
thomas.poessnecker@vishay.com

ASIA/PACIFIC
Song Hee Lau
Vishay Asia Pte Ltd.
25 Tampines Street 92
Keppel Building #02-00
Singapore 528877
Tel: +65-780-7711
Fax: +65-780-7778
songhee.lau@vishay.com


More from Packaging Products & Equipment