Chip Bead Inductors suppress noise in 1-3 GHz frequency range.
Press Release Summary: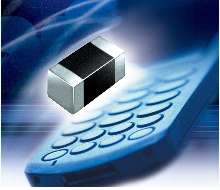 Offered in EIA 0603 case size, surface-mountable FBMH1608HL series allows component impedance characteristics to be configured to specific end device frequency requiring noise countermeasure. Material and component structure incorporates silver (Ag) wire, allowing series to achieve, simultaneously, 110-1,900 ohm impedance and 0.4-2.5 A current operation at frequency of 1 GHz. Max RDC values range from 0.028-0.450 ohm.
---
Original Press Release:

Taiyo Yuden Introduces Industry's First Chip Bead Inductors to Provide Both High Impedance and High Current at 1-3GHz


0603 case size devices provide exceptional noise suppression for portables, automotive electronics and other design applications

Schaumburg, IL--March 18, 2004--TAIYO YUDEN (U.S.A.), INC. announces the FBMH1608HL series of high- performance chip bead inductors, the first devices on the market to provide both high impedance and high current operation for superior noise suppression in the gigahertz frequency range. With seven part numbers to choose from, the highly flexible HL series allows component impedance characteristics to be configured to a specific end device frequency requiring a noise countermeasure. The ability to tailor component specifications to meet the OEM customer's needs results in maximum achievable performance for the full spectrum of noise-suppression requirements in cell phones, personal computers, wireless LAN, automotive electronics, and other applications.

The suppression of high-frequency noise in the 1-3GHz range is a major issue in a number of design areas. For example, in the rapidly growing DVD drive market, noise generated by a DVD recorder's optical pickup not only affects electronic circuits in the recorder itself but often interferes with nearby devices. Another consideration is that optical pickups for writing have large power requirements of about 0.5A.

Conventional noise-suppression components cannot achieve both high impedance and high-current operation at higher frequencies at the same time. TAIYO YUDEN solved this problem by developing a new material and unique component structure incorporating silver (Ag) wire, allowing the HL series to become the first device of its type to achieve, simultaneously, both high impedance and high current operation at frequencies up to 3GHz. The HL series employs TAIYO YUDEN's material science expertise and fabrication techniques to achieve the industry's highest impedance values at the targeted high-frequency noise range, while maintaining low impedance in the lower signal range required for normal device operation.

The HL series high current ratings and small form factor make them ideal for use in ultra-portable designs and other applications requiring higher component density. Surface-mountable HL series chip bead inductors come in EIA 0603 case size (1.6mm x 0.8mm x 0.8mm) and provide impedance values (depending on part number) from 110-1900 Ohms at 1GHz, typical. At that frequency, the 110 Ohm part (FBMH1608HL300-T) offers a maximum current rating of 2.5A, while the 1900 Ohm part (FBMH1608HL601-T) offers a 0.4A rating. The 110 Ohm part provides a maximum RDC value of 0.028 Ohm, while the 1900 Ohm part has a 0.450 Ohm rating-an effective solution for reducing heat generation and power loss in low voltage/high current applications.

For more information, please visit: http/t-yuden.com/products/index.cfm, input Part Number Search = FBMH1608HL.

Price: $0.05 each in OEM quantity

Availability: Now (production capacity: 10,000,000 parts per month)

Delivery: 8 weeks ARO, typical

Now in its 54th year, Tokyo-based TAIYO YUDEN CO., LTD. is a worldwide manufacturer of surface-mount and leaded passive components, Bluetooth modules, power electronics modules, power supplies, and recordable digital media. With approximately 50% of the worldwide market in high-frequency multilayer chip inductors used in cellular phone applications, the company reports annual sales of nearly US$1.6B. Worldwide, TAIYO YUDEN employs more than ten thousand people, and the company's North American affiliate, TAIYO YUDEN (U.S.A.), INC., operates sales and engineering offices in: Chicago, IL; Raleigh, NC; Irving, TX; San Jose, CA; and San Diego County.

More from Electronic Components & Devices