Chilled Beam Pump Module comes with digital controller.
Press Release Summary: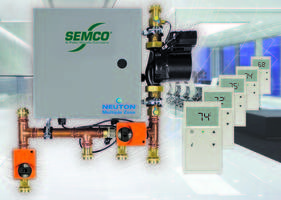 NEUTON™ Controlled Chilled Beam Pump Module is embedded with onboard software. Featuring chilled and hot water connections, valves, temperature and humidity monitoring sensors, unit is integrated with thermostatically controlled hydronic valves. Compatible with building management system, product supplies 58°F water from the building water loop. Module is equipped with 12-gpm pump which can accommodate five offices and is suitable for office buildings, hospitals and schools. NEUTON™ comes with optional CO2 monitoring.
---
Original Press Release:
SEMCO's NEUTON Pump Module Now Controls Multiple Zones of Active Chilled Beams
One NEUTON™ controlled chilled beam pump module can control multiple offices with similar loads for significant HVAC equipment cost reductions in commercial buildings.
SEMCO® LLC, Columbia, Mo., an energy-efficient HVAC equipment and IAQ technology leader, introduces the award-winning NEUTON™–Multiple Zone, the HVAC industry's first controlled chilled beam pump module (CCBPM) capable of controlling active chilled beams in up to five small rooms in office buildings, hospitals, schools or other commercial buildings.
The NEUTON–Multiple Zone consists of modified onboard software, combination temperature/humidity monitoring sensors and thermostatically-controlled hydronic valves for up to five zones, and an original NEUTON CCBPM, winner of an AHR Innovation Award at the 2016 Air Conditioning Heating Refrigeration Expo. The NEUTON-Multiple Zone recently won the Silver Award in the Dealer Design Awards' (DDA) Component Controls category sponsored by the HVAC trade magazine, Air Conditioning Heating and Refrigeration News (ACHRNEWS).
While the original NEUTON was designed to control up to 10 chilled beams in a single zone, the NEUTON–Multiple Zone can control several chilled beam spaces with similar heating/cooling/humidity loads, such as single user offices, library study rooms, hospital rooms and other small spaces. This cuts project chilled beam control equipment and installation costs by 60 percent, while providing personalized air comfort.
The included Advanced Logic premium room monitor/sensor reports temperature information to the NEUTON, which is connected to and compatible with all building management system (BMS) brand protocols. Individual zone temperature is achieved through set points at the BMS or at the NEUTON pump module when a BMS is absent. The NEUTON supplies 58°F water from the building water loop; however each zone's BELIMO® thermostatically-controlled valve (available in two-way or three-way configurations) achieves its chilled beam's preset temperature, which is always set above the room's dew point. Meanwhile, the preset relative humidity (RH) is controlled via the building's dedicated outdoor air system (DOAS), which supplies dehumidified outdoor air to the zone's active chilled beam.
The original NEUTON has recently become one of the most popular HVAC hydronic specification products for both new construction and retrofitted buildings that require superior air comfort, energy efficiency and reduced construction and equipment costs. NEUTON is a packaged easy-to-install, plug-and-play module with its own powered integrated direct digital controller, chilled and hot water connections, valves, variable-speed electronically commutated (EC) motor pumps, smart sensors and other unique features.
NEUTON's intuitiveness reduces the expense of size of a separate chiller, boiler and secondary water distribution system associated with conventional chilled beam HVAC designs. Instead, each NEUTON blends and re-circulates return water within its zone to convert typical 42°F and 140°F primary loop water temperatures to optimal 58°F or 100°F chilled beam discharge temperatures. This prevents cooling mode condensation and heating season heat stratification. Using a CCBPM design versus a traditional chilled beam layout reduces job piping material/labor costs by up to 35-percent because two-pipe configurations can now provide the same heating/cooling performance as a four-pipe configuration. The main supply loop's piping diameter can also be reduced for additional construction savings.
Other features of the NEUTON–Multiple Single Zone is:
thermostatically-controlled valves can be installed in a labor and material-saving manifold configuration near the NEUTON pump module or individually near each chilled beam.
One NEUTON and its 12-gpm pump can accommodate five offices (zones) averaging 120 square feet each (10 x 12-foot room, load dependent).
both chilled beam retrofit and new construction projects are suitable applications.
smaller boiler and chiller sizes are applicable in NEUTON projects, which results in less upfront capital for equipment and reduced operational expenses.
CO2 monitoring is an option.
and 208V or 230V single phase variable speed ECM pump motor is significantly more efficient and saves up to 90-percent energy while providing the same BTUs as larger, conventional loop pumps with two-way on/off valves.
For more information on SEMCO's NEUTON product line or other chilled beam and DOAS products, please call 1-888-473-6264, visit www.semcohvac.com, or email: sales.semco@flaktgroup.com.
About SEMCO:
Since its founding in 1963 as a sheet metal fabrication company with five employees, SEMCO has built a reputation as a worldwide product innovator in the science of air movement, noise abatement, energy efficiency and indoor air quality with more than 200 employees and more than 200 manufacturer's representatives. Major product lines include spiral metal HVAC duct, energy recovery equipment, chilled beams, and acoustics equipment. SEMCO is a FläktGroup company based in Columbia, Mo. SEMCO operates three manufacturing facilities. Two in Arkansas and one in Virginia. SEMCO also operates an ASHRAE 84-compliant research and development facility dedicated to the innovation of new products for the 21st Century and beyond. For more information, please visit www.semcohvac.com; email sales.semco@flaktwoods.com; or call 1-573-443-1481.
Contact:
Contact:
Erin Twenter
Marketing Coordinator
SEMCO LLC
(573) 886-1168
More from Electrical Equipment & Systems