Child-Resistant Closure targets ophthalmic packaging.
Press Release Summary: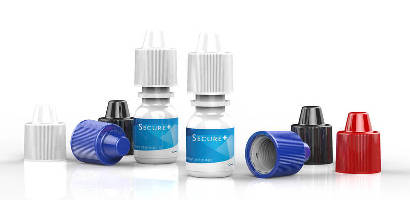 Developed in response to federal government regulations that require child-resistant closures for certain drug packaging, SecurePlus consists of 15 mm diameter polypropylene closure which uses push-and-turn system that can be opened by adults. It is used for squeezable linear low-density polyethylene eye drop containers ranging from 5–60 mL.
---
Original Press Release:

Amcor Rigid Plastics Unveils New SecurePlus Child-Resistant Closure for Ophthalmic Packaging



Two-Piece Push-and-Turn Closure Meets New Government Protocols



LAS VEGAS, Nev., – Amcor Rigid Plastics, one of the world's leading manufacturers of rigid plastic packaging for the food, beverage, spirits, home/personal care, and healthcare industries, has announced the launch of a new child-resistant (CR) closure for ophthalmic packaging. Amcor's SecurePlus is a two-piece closure which was developed in response to new federal government regulations that require child-resistant closures for certain drug packaging. Amcor announced the product introduction at the Pack Expo exhibition September 28-30 (Booth #S-6278) in Las Vegas.



SecurePlus is a 15-mm-diameter polypropylene (PP) closure which uses a push-and-turn system which can be opened by adults. It is used for squeezable linear low-density polyethylene (LDPE) eye drop containers ranging from 5ml to 60ml. SecurePlus replaces today's single-piece PP closures which are non-child resistant.



Amcor developed the injection molded child-resistant closure in response to a ruling from the Consumer Product Safety Commission (CPSC) which requires child-resistant packaging for any over-the-counter or prescription product containing the equivalent of 0.08 mg or more of imidazoline, a class of drugs that includes tetrahydrozoline, naphazoline, oxymetazoline, and xylometazoline in a single package. Imidazolines are a family of drugs that are vasoconstrictors indicated for nasal congestion and/or ophthalmic irritation. Products containing imidazolines can cause serious adverse reactions such as central nervous system (CNS) depression, decreased heart rate, and depressed ventilation in children who accidentally ingest them. Based on the scientific data, the Commission has determined that availability of 0.08 mg or more of an imidazoline in a single package requires the use of special packaging to protect children under five years old from serious personal injury or illness due to handling or ingestion.



The development of the closure required a significant amount of design work so the closure could be produced economically while also meeting the protocol demands, according to Greg Rosati, marketing director for the Diversified Products Division of Amcor Rigid Plastics. "It was a challenge due to the closure's small diameter," explained Rosati. "Our design team underwent a few iterations to pass the protocols and also maximize productivity and functionality."



SecurePlus CR closures work on any 15-mm-diameter ophthalmic bottle. Amcor is currently building new tools for manufacture of commercial products which are expected to be available by year's end.



About Amcor Rigid Plastics                                                                                                             

Amcor Rigid Plastics is among the world's largest manufacturers of rigid plastic packaging for the food, beverage, spirits, personal care, home care, and healthcare industries with 58 facilities in 12 countries. Based in Ann Arbor, Mich., Amcor Rigid Plastics is a subsidiary of Amcor Limited.



Amcor Limited is a global leader in responsible packaging solutions, employing more than 28,000 people worldwide, operating in more than 40 countries throughout 180-plus sites. Amcor supplies rigid and flexible packaging solutions to enhance products consumers use in everyday life. Amcor also provides packaging-related services to help customers succeed through collaboration and innovation driven by art and science. Amcor (AMC) is headquartered in Melbourne, Australia, and listed on the Australian Securities Exchange. For more information, visit www.amcor.com.



Company Contact:    

Michael Hodges

Amcor Rigid Plastics

(734) 302-2503

michael.hodges@amcor.com



Media Contact:          

Joe Grande

J. Grande communications Inc.

(413) 684-2463

joe@jgrandecommunications.com





More from Electrical Equipment & Systems