Chief to Add Thermal Circuit Breakers to Line Card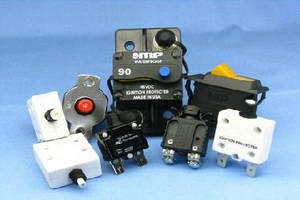 Chief Enterprises Inc, in partnership with Mechanical Products Company, will now have high amp thermal circuit breakers available for purchase



Elmhurst, IL -- Chief Enterprises Inc, has expanded its supplier and product profile with the addition of Mechanical Product Company and their new line of high amp thermal circuit breakers for original equipment manufacturers (OEM) in the industrial, commercial, and transportation markets.



With the recent MP partnership, Chief will be adding the following high amp circuit breakers to their product portfolio: Series 16 and Series 17 PushtoReset Thermal Circuit Breakers, Series 18 Weatherproof PushtoReset Circuit Breakers, and the Series 24 Switchable Circuit Breakers.



The Series 16 PushtoReset Thermal Circuit Breaker features robust, configurable supplementary circuit protection with current ratings ranging from 0.570 amps and voltage up to 250VAC/5VDC. Tested in today's harsh environments including vibration, shock, corrosion, and humidity.



The Series 17 High Current Thermal Circuit Breaker is a new series tooled specifically to compete against Bussmann who held the patent until 2013. This series of thermal circuit breakers features circuit protection of main or supplementary applications in industrial and commercial vehicles. Available as Type l, Type lll and Type lll with manual trip button and surface or panel mounting. Options include new stud arrangements and larger studs and high amperage ratings of 25150 amps up to 48 VDC and new to the market 175200 amps up to 30 VDC.



The Series 18 Weatherproof PushtoReset Circuit Breakers are weatherproof and ignition protected ideal for marine, heavy equipment, trucks, buses, and battery chargers. Designed for these harsh environments with current ratings of 240 amps and 12.560 amps.



The Series 24 Switchable Circuit Breakers are designed for applications that require an "on/off" circuit breaker switch capability as well as protection in space restricted enclosures. Features an economically conscious design to provide efficient performance at a competitive cost.



About Chief Enterprises

Chief, a solutiondriven parts specialist and custom manufacturer, is the authorized distributor of Bosch Connector Parts with a product line ranging from relays to audible devices, serving a variety of OEM markets including transportation, commercial, and electric vehicles. Partners in parts include TE Connectivity, GEP Power Distribution, and Daesung.



About Mechanical Products

Mechanical Products (MP), located in Lombard IL, is America's leading manufacturer of high amp circuit breakers that offer main or supplementary protection for a variety of products and equipment in the commercial, defense, marine and transportation markets.



For more information about Chief Enterprises and Mechanical Products Thermal Circuit Breakers including samples and pricing contact John Herzog, 630.530.1224 x 211, jherzog@chiefent.com.

More from Software