ChemLite™ Plus Laser Metals Analyzer delivers measurements in one sec.
Press Release Summary: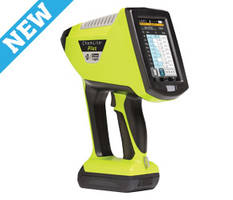 Capable of identifying base metals like iron, copper and nickel, ChemLite™ Plus Laser Metals Analyzer comes with class 1M, eye safe laser technology. Equipped with advance user interface and built-in cleaning mode, unit provides argon-free operation.
---
Original Press Release:
TSI Introduced ChemLite™ Plus Laser Metals Analyzer at ISRI 2017
New Handheld Metals Analyzer Expands Metals Identification Capabilities
TSI Incorporated, the leader in Laser-Induced Breakdown Spectroscopy (LIBS) and Raman Spectroscopy technology, unveils the latest handheld instrument in its line of metals analyzers at the ISRI 2017 Expo and Convention (April 22-27) in New Orleans, Louisiana.
The ChemLite™ Plus Laser Metals Analyzer incorporates new, high-performance hardware for identification of more base metals including iron, copper, and nickel; faster measurements in as little as 1 second; and improved limits of detection—the lowest of any handheld LIBS device on the market. The ChemLite Plus device also incorporates the same great features as the original ChemLite model, the ChemLite Laser Aluminum Analyzer, including: Class 1M, eye-safe laser technology; argon-free operation; advanced user interface; built-in cleaning mode; and the largest laser spot size. From grading scrap metals to quality control (QC) and positive material identification (PMI) applications of finished alloys, the ChemLite Plus analyzer is the handheld of choice.
Phillip Tan, Sr. Global Product Manager stated, "The ChemLite LIBS Aluminum Analyzer is the best handheld in the market for Aluminum, used and trusted by aluminum mills, cast houses and forgers around the world. The New ChemLite Plus Metals Analyzer expands upon this technology and reputation , assaying more metals, like stainless steels, brasses and bronzes, and nickel-based alloys, with measurements times as fast as 1 second."
The ChemLite LIBS Metal Analyzer will be on display at booth 405/407 at the 2017 ISRI Conference and Expo.
For more information, visit: www.tsi.com/MoreMetals
Web Site: http://www.tsi.com
Related