Chemline Wood Coatings provide moisture and UV resistance.
Press Release Summary: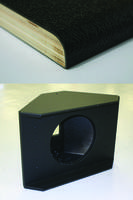 Suitable for protecting wood surfaces in industries like shipping crates and containers, boat hulls and decks, hard wood speaker cabinets, Chemline Wood Coatings are 100% Solids (No VOCs) with rapid curing polyurea (5-10 second gel times). Providing extreme abrasion, impact resistance and low permeability even in -20° F temperature, coatings are Class A fire resistant and give coating hardness of 45-60 Shore D and forms slip resistant.
---
Original Press Release:
Chemline Premium Wood Coatings Deliver Increased Productivity and Reduced Labor Costs for OEMs
Chemline specially formulated wood coatings offer OEMs higher production levels and lower labor costs because they are fast cure – products can be handled in a matter of minutes instead of several hours – and require minimal staging/curing area, which saves costly floor space typically required for product production. Additionally, Chemline wood coatings provide a superior protective barrier for wood, making it abrasion, impact, moisture and UV-resistant – even in the harshest environments, such as temperatures below -20° F. Unique in the industry, applied Chemline polyurea coatings resemble traditional vinyl or ABS plastic with a textured-style appearance that forms a slip-resistant and waterproof barrier for wooden surfaces.
Chemline polyurea and polyurethane coatings are used to protect wood surfaces in industries such as commercial table edging, shipping crates and containers, boat hulls and decks, hard wood speaker cabinets and delicate musical instrument carrying cases, as well as balconies, deck and walkway surfaces. Chemline's family of wood coatings provide extreme abrasion, impact resistance and low permeably can be used to encapsulate treated timber products to prevent pressure-treated chemicals from leaching into the environment.
Chemline wood coatings are ideal for virtually any wood surface – from hard woods to plywood to particle board – without the need for a primer in most cases (except for the softest woods).
More about Chemline premium wood coatings:
100% Solids (No VOCs)
Rapid-curing polyurea (5-10 second gel times)
Class A Fire-Resistant formulation when required
Coating hardness 45-60 Shore D
Chemline recommends applying its wood coatings with High Pressure, Plural Component Pump Systems. Chemline is a Top 20 High Performance Distributor for Graco Foam and Polyurea Equipment.
ABOUT CHEMLINE
Founded in 1997, Chemline is an industry leader in fast-set polyurethane and polyurea coatings.The company's 100% solids, spray-applied products are used by OEMs and applicators around the world as protective coatings for metal, wood, concrete, foam and other materials. We also offer a diverse range of castable resins from soft gels to hard plastics formulated to meet your toughest needs. Chemline operates a 170,000 sq. ft. plant at its headquarters in St. Louis, Missouri, with an additional manufacturing facility in Los Angeles, California. For more information, please visit www.chemline.net or call 314.664.2230.
Media Contacts Company:
Megan Muccigrosso
Tel. 314.254.2722
Email: megan.muccigrosso@chemline.net
More from Electronic Components & Devices