Chemline Offers High-Performing, Environmentally-Friendly Cold Cast Elastomers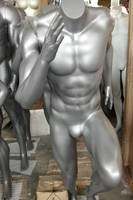 St. Louis, MO – Chemline, Inc. manufactures cold cast urethane elastomers and foams formulated for a variety of applications, from soft gels and foams to very hard plastics. These systems can be applied at room temperature and do not require post-curation, making them fast and simple to produce. Chemline's cold cast systems can be processed by hand or machine (low and high pressure), and can be cast in open or closed molds.
Chemline uses MDI, TDI and HDI to create proprietary prepolymers that yield unique characteristics in the finished parts. Chemline's experienced chemists develop these custom solutions to fit specific OEM applications. As such, cold cast elastomers are tailored to meet a number of requirements such as impact, abrasion, cut and tear resistance. Furthermore, cold cast technology is used extensively in markets including: concrete molds and repair, rigid and elastomeric adhesives, flexible molded and rigid pour foam, elastomeric gaskets and architectural form liners among others.
More features and benefits of Chemline cold cast elastomers include:
Environmentally friendly (100% solids, no VOCs)
Mercury-free formulations are available
Hardness available from Shore 00 to Shore D 85
High abrasion and impact resistance
ABOUT CHEMLINE
Founded in 1997, Chemline is an industry leader in fast-set polyurethane and polyurea coatings. The company's 100% solids, spray-applied products are used by OEMs and applicators around the world as protective coatings for metal, wood, concrete, foam and other materials. Chemline operates a 170,000 sq. ft. plant at its headquarters in St. Louis, Missouri, with an additional manufacturing facility in Los Angeles, California. For more information, please visit www.chemline.net or call 314.664.2230.
Media Contacts
Megan Muccigrosso
Tel. 314.254.2722
Email: megan.muccigrosso@chemline.net
More from Agricultural & Farming Products