Chemistry/Hematology Analyzers can be accessed remotely.
Press Release Summary: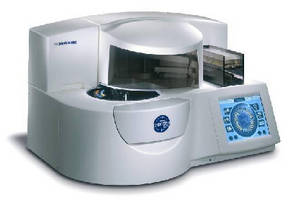 Available for ABX Pentra 400 clinical chemistry analyzer and ABX Pentra 80 hematology analyzer, Pentra SAfe provides remote Point-of-Care managers with secure access to all software on analyzers. CPA-compliant program requires username and password to access analyzers' operating systems and can provide full audit trail of all personnel who have processed samples. With software, managers can also monitor performance of users, patient results, and reagent levels in real time.
---
Original Press Release:

POC CPA Compliant Clinical Chemistry and Haematology Assured by Pentra SAfe Solution



HORIBA Medical's secure access solution now enables remote working on ABX Pentra 400 and ABX Pentra 80 analysers

The ABX Pentra 400 can now be securely accessed remotely via the Pentra SAfe solution

Northampton, UK, - HORIBA Medical's Pentra SAfe secure access solution for remote analysis is now available for both the ABX Pentra 400 clinical chemistry analyser and ABX Pentra 80 haematology analyser - both ideal for remote 'hot lab' locations. The Pentra SAfe solution provides remote Point-of-Care (POC) managers full, secure access to all software on these analysers as if they were standing in front of them. This new development follows the Pentra SAfe solution's highly successful initial launch in conjunction with the ABX Pentra 60 C+ bench top haematology analyser which enabled CPA compliant POC haematology service provision with this analyser.

Clinical Pathology Accreditation (CPA) (UK) Ltd specifies requirements for the quality and competence of POC testing. It is essential for CPA accreditation and subsequent patient safety purposes that all analysers within POC and 'hot lab' environments, such as A&E, clinics, healthcare centres and community hospitals, have password protection and full audit trails available. The HORIBA Medical Pentra SAfe solution meets these needs and provides CPA compliant POC testing within such environments.

In line with CPA requirements, the Pentra SAfe solution can provide a full audit trail of all personnel who have processed samples using the ABX Pentra 400 and ABX Pentra 80. This is possible since this desktop secure access solution requires a username and password to access the analysers' operating systems. By only assigning a password to fully trained personnel, POC Managers can monitor the competency of individual users in a POC location to guarantee quality of results and ultimately the safety of patients.

In addition to the password functionality of the Pentra SAfe solution, which locks the analyser's screen after it has been idle for a user defined time period, the new solution now enables fully secure remote access for POC Managers to all ABX Pentra 400, ABX Pentra 80 and ABX Pentra 60 C+ analysers under their supervision. Remote bidirectional access functionality means the Manager can access all files and run the analyser as if they were in front of it, except for physically loading samples. This means they can monitor in real time performance of users, patient results, reagent levels, instigate a cleaning cycle and even monitor the Quality Control performance of the system as required.

ABOUT HORIBA Medical:
www.horiba.com/uk/medical

Analysis Anywhere: HORIBA Medical (formerly known as HORIBA ABX) is a renowned specialist in the design and manufacture of automated in vitro diagnostic systems for haematology for over 25 years, and chemistry focused analytical solutions for over 10 years. From compact to high throughput systems, HORIBA Medical has successfully developed an array of analysers, pre and post-analytical and data management solutions to meet all needs, enabling LEAN analysis anywhere it is required.

Specialist bench top analysis: In addition to large NHS laboratories and Point of Care settings, HORIBA Medical systems are also found in many areas of industry requiring specialist analysis, including veterinary diagnostics, sports science, food and beverage, pharma and neutraceuticals, and clinical research. The company's benchtop analysers, such as the ABX Pentra 60 C+ for haematology and ABX Pentra 400 for chemistry analysis, are proving their worth in these environments due to their exceptional flexibility and ease of use.

Animal healthcare products: In addition to haematology and clinical chemistry analytical solutions, HORIBA Medical also now offers endoscopy products, as well as surgical and therapeutic diode laser technology for veterinary professionals.

Trusted expertise: HORIBA Medical is one of the five major operators in the automated haematology analyser market. Headquartered in Montpellier (France), the company employs more than 1,000 staff in its sites and subsidiaries, producing nearly 7,500 analysers per year and over 8,000 tons of reagents. This makes HORIBA Medical the leading developer and manufacturer of haematology diagnostic systems in the world equipping more than 27,000 laboratories in over 110 countries worldwide.

In the UK, the foundation of HORIBA Medical is built around its excellent support network of 31 personnel. The dedicated sales, service, technical and administration teams strive to ensure customers can work as smoothly and efficiently as possible, whatever their location. The scientific expertise within these teams provides customers with an educational and reference resource, and even assists in research and evaluation projects.

More from Non-Industrial Products