Chemineer's Advanced Impeller Technology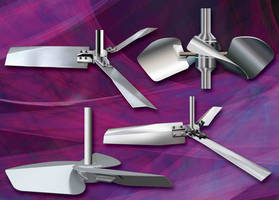 Dayton, Ohio - Chemineer's advanced impeller technology development has resulted in a wide variety of precision-engineered impeller designs for optimized performance in a broad range of applications. The Chemineer® impeller designs are the result of over six decades of research and applied application experience, resulting in the broadest range of durable and efficient impeller options.

The new Chemineer® RL-3 impeller reduces expensive maintenance costs and downtime caused by fibrous material buildup. The Chemineer RL-3 impeller easily retrofits to existing agitators, provides safe and reliable operation and offers application versatility with a wide range of available sizes and materials.

The Chemineer® XE-3 impeller is the company's most efficient axial flow impeller for heat transfer, blending and solids suspension applications.

The patent-pending Chemineer® Smoothline impeller features liquid-shedding surfaces and concealed hardware for enhanced CIP performance. The Smoothline impeller enhances cleanability, ensures product purity and optimizes process efficiency.

The field-proven stalwart of the impeller line is the Chemineer® HE-3 impeller that is extremely efficient in creating greater fluid motion with less energy.

The Chemineer® SC-3 impeller is engineered for deep tank applications utilizing a rolled blade design.

There is a Chemineer impeller engineered to fit the most challenging application from miscible and immiscible fluids blending to solids suspension and high viscosity fluid mixing.

Chemineer, Inc., a unit of Robbins & Myers, Inc. is dedicated exclusively to mixing technology and the manufacture of quality equipment for fluid agitation applications. Chemineer has operations in Dayton, OH; North Andover, MA; Derby, England; Mexico, D.F.; Singapore, China and India. For more information, visit, www.chemineer.com.

Reader service inquiries should be forwarded to Adrienne Kreighbaum, Chemineer, Inc., P.O. Box 1123, Dayton, Ohio 45401-1123. Telephone: 937-454-3200. Fax: 937-454-3379.
E-mail: Adrienne.kreighbaum@robn.com. Web: www.chemineer.com. For the nearest sales office, call 1-800-643-0641.


More from Agricultural & Farming Products