Impeller / Propeller / Turbine - Agitators / Mixers
Chemineer QED Plus Mixers Offer Reliable Performance and Unbeatable Value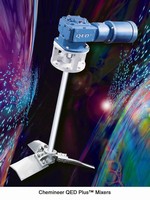 Dayton, Ohio - Chemineer QED Plus(TM) mixers are the reliable performers for a broad range of fluid mixing applications in the specialty chemical, petrochemical, pharmaceutical and general fluid processing industries.

QED Plus(TM) mixers can handle blending, solids suspension and high viscosity applications, include an exclusive leak-proof drywell design and a minimum 30,000 hr. L10 bearing life for cost-effective service even under demanding conditions. A tapered shaft engagement system ensures easy disassembly, yet provides a secure, true-running connection between the shaft and drive. Designed for agitator service, the gear drive is supplied with a high quality, synthetic oil for optimum operating efficiency.

Chemineer QED Plus(TM) Mixers offer:
o Various model sizes for continuous or batch mixing
o Right angle, heavy-duty gear drive that requires low head room for tight spaces
o Rugged cast iron drive housing for long-life service
o 316L stainless pedestal for maximum corrosion resistance
o NEMA or IEC frame motors
o Open tank, stuffing box and mechanical seal options

Chemineer, Inc., a part of the Process Solutions Group of Robbins & Myers, Inc., is dedicated exclusively to mixing technology and the manufacture of quality equipment for fluid agitation applications. Chemineer has operations in Dayton, OH; North Andover, Ontario; Derby, England; Mexico, D.F.; Singapore, China and India. For more information, visit, www.chemineer.com.

More from Material Handling & Storage