Chemiluminescent Kit offers alternative to isotopics.
Press Release Summary: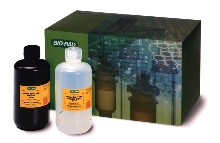 Immun-Star HRP kits, for western blot detection, uses peroxidase-catalyzed oxidation of luminol which produces light. Addition of enhancer, included in kit, intensifies light signal and increases its duration. Kit detects less than one picogram of sample, and light signal lasts 6 to 8 hours after activation. Successful experiments can be run with small amounts of sample, and most blots can be reused by stripping and reprobing.
---
Original Press Release:

New Immun-Star(TM) HRP Chemiluminescent Kit Enables Detection of Less than 1 Picogram of Sample


HERCULES, CA, July 26, 2002 - Bio-Rad has expanded its Immun-Star line of chemiluminescent kits for western blot detection to include the Immun-Star HRP kit for horseradish peroxidase (HRP) conjugated secondary antibodies.

This highly-sensitive, fast-acting alternative to isotopic detection is able to detect less than one picogram of sample, and the light signal lasts 6-8 hours after activation. Successful experiments can be run with small amounts of sample, and there's no need to rush into the darkroom after activation. Working solutions are stable at room temperature for 24 hours, and kits' shelf life is one year at 4°C.

Film exposures are as low as 30 seconds to 2 minutes on commonly used blotting supports. These superior light signals also produce excellent, quantifiable results on imaging systems such as Bio-Rad's ChemiDoc(TM) and VersaDoc(TM) systems.

The chemical reaction of Immun-Star HRP involves a peroxidase-catalyzed oxidation of luminol which produces light. The addition of an enhancer, which is included in the kit, intensifies the light signal and increases its duration. If desired, most blots can be reused by stripping and reprobing.

Immun-Star HRP kits are available in configurations to suit customer's precise needs, including: substrate only, substrate with conjugate and substrate with conjugate and blotting reagents.

Bio-Rad Laboratories, Inc. (www.bio-rad.com) is a multinational manufacturer and distributor of life science research products and clinical diagnostics. It is based in Hercules, California, and serves more than 70,000 research and industry customers worldwide through a network of more than 30 wholly owned subsidiary offices.

For more information call 800-424-6723 (800-4BIO-RAD) or visit us on the web at discover.bio-rad.com

All trademarks and registered trademarks are property of their respective holders.

Editorial Contact:
Richelle Serrano
Senior Product Manager, BioMaterials
Bio-Rad Laboratories, Inc.
Phone: (510) 741-6763
E-mail: richelle_serrano@bio-rad.com

Please send reader inquiries directly to:
Debbie Schantz
Bio-Rad Laboratories, Inc.
2000 Alfred Nobel Drive
Hercules, CA 94547
E-mail: debbie_schantz@bio-rad.com


More from Cleaning Products & Equipment